The Sustainable Energy Buyers Association (CEBA) released its annual Deal Tracker Top 10 list on Wednesday, highlighting the top ten U.S. clean energy buyers in 2021. For the second year in a row, Amazon tops the list with 2.85 GW of announced projects.
"CEBA recently established a lofty goal of achieving a 90% carbon-free electricity system in the U.S. by 2030. Over the previous decade, energy customers have showed a strong commitment to decarbonization," stated CEBA CEO Miranda Ballentine. "The aggregate impact of the 2021 Deal Tracker Top 10 firms shows that our clean energy goal is indeed attainable and within reach if we continue to push market and policy solutions."
The CEBA Deal Tracker Top 10 shows that several sectors, including telecoms services, consumer staples, and industrials, are now playing a significant role in energy system decarbonization and have set increasingly ambitious climate action goals.
Amazon's Vice President of Global Sustainability Kara Hurst commented, "We're pleased of Amazon's fast expanding renewable energy portfolio, which is motivated by an urgent need to cut carbon emissions and combat the climate change. We believe that investing in sustainable energy is the right thing to do for our company, our customers, and the environment."
"Amazon is on track to use 100% renewable energy to power our operations by 2025, five years ahead of our original 2030 goal," she added.
Energy customer's perceptions of clean energy's impact have altered Beyond the Megawatt initiative with an emphasis on optimizing carbon-reduction emissions, community engagement, and environmental consequences. Microsoft's new strategy, for example, includes a promise to invest clean energy earnings in community activities, while McDonald combines employment creation in local communities with the use of virtual power purchase agreements for solar and wind energy.
The Top 10 Deal Tracker for 2021 highlights the scale and importance of energy customers that have contracted approximately 47 GW of renewable energy over the last decade, accounting for roughly 20% of all wind and solar capacity in the U.S.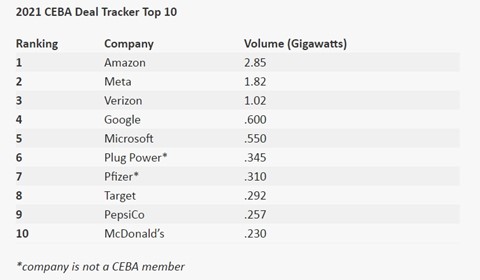 Source: CEBA Website