Indonesia's Tourism and Creative Economy Minister, Sandiaga Uno, signed a road map for low-carbon tourism last week at the Archipelagic and Island States (AIS) forum in Bali. The government hopes that the road map will guide the tourism industry towards solutions for achieving carbon neutrality.
"The road map's development aims to formulate a strategic plan… especially in efforts to achieve energy-use efficiency and reduce waste generated from the tourism industry," Sandiaga said in a press release.
The government developed the document alongside the United Nations Development Program (UNDP) through the Climate Promise project, which aims to assit over 120 nations improve and realize their climate pledges under the Paris Agreement.
Sandiaga said that the road map focused on emissions reduction in three main subsectors considered the largest emitters in the tourism industry: tourist attractions, tour and travel services and accommodation, especially starred hotels.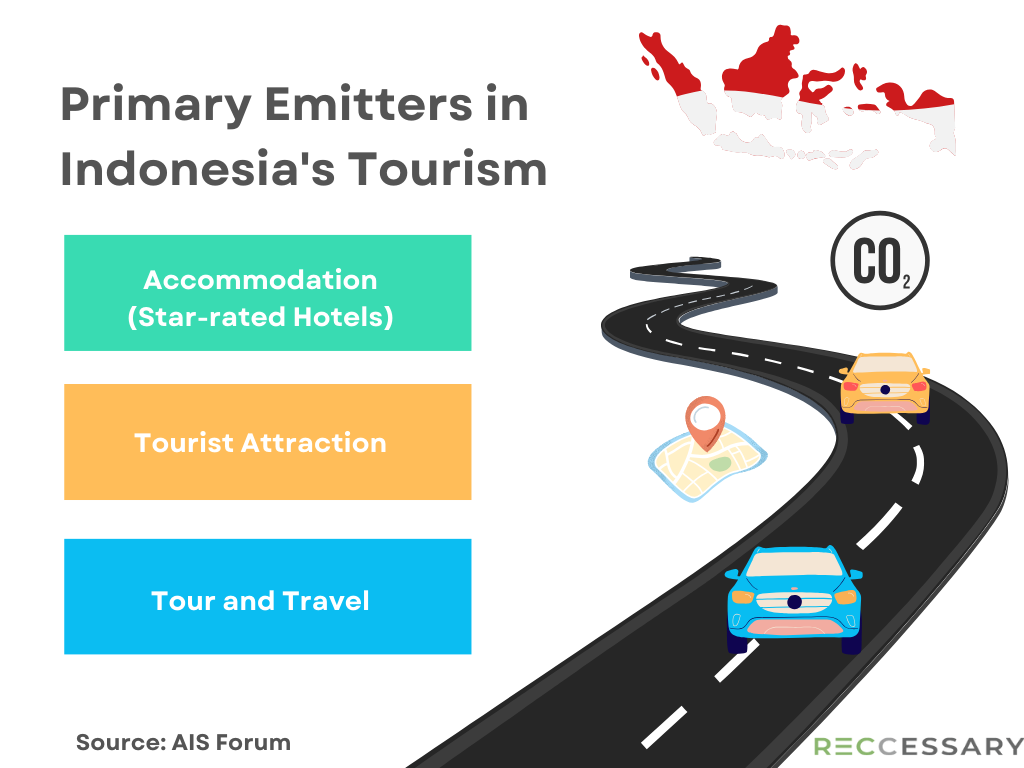 The accommodation contributed to emissions through its consistent use of ventilation and air conditioning systems. Meanwhile, the emissions from tourist attraction, tour and travel subsectors mostly came from human-made attractions and transportation.
Data from East Ventures, the Katadata Insight Center and PwC Indonesia shows that transportation was the main driver of tourism industry growth between 2020 and 2022. Transportation is the second biggest contributor to the country's CO2 emissions, accounting for 25% of total emissions, after the power sector at 43%, as pointed out by a Climate Transparency report in 2022.
The government will initiate tourism decarbonization efforts by measuring the baseline emissions situation, calculating reduction targets, and preparing monitoring mechanisms, with the goal of delivering net-zero tourism emissions by 2060 or sooner, Sandiaga said.
The Ministry will work with the Office of the Coordinating Maritime Affairs and Investment Minister and the Energy and Mineral Resources Ministry to conduct a survey on energy and waste management in twenty hotels in Nusa Dua, Bali.
Similar surveys will also be conducted at the five "super-priority" destinations: Lake Toba in North Sumatra, Borobudur in Central Java, Mandalika in West Nusa Tenggara, Labuan Bajo in East Nusa Tenggara and Likupang in North Sulawesi.
However, activist Zenzi Suhadi of Walhi called on not just to address the environmental aspect, but also to prioritize the communities surrounding tourism areas.
"The environment exists because of human beings. If there is decarbonization but justice is not delivered, that means the environment only becomes a commodity and not part of human civilization," he said.
Zenzi suggested that the government also calculate the "carrying capacity" of tourism destinations, or the maximum number of visitors in one destination that would not harm the environment or local communities, as the next step of the road map.
Tourism has been growing rapidly following the pandemic. According to government data, in 2022, Indonesia welcomed 5.5 million foreign tourists, surpassing the official target of 3.6 million arrivals.