Known as Bangkok's biggest shopping center, Megabangna has invested 1 billion baht embracing clean solar energy and expected to mitigate the emission of approximately 210,592 million tons of carbon dioxide which is equivalent to plant 600,000 trees in 25 years. Thai businesses are accelerating in green transformation, but an expert worried government policy could not catch up.
Megabangna's initiative spans 13 buildings, covering 62,000 square meters, with installed capacity of approximately 9.9 MW. Megabangna accepted WHA Solar's proposal and signed Power Purchase Agreement(PPA) before securing permission from regulatory authority. WHA Solar also provides real-time monitoring platform to get insights of solar energy production for Megabangna.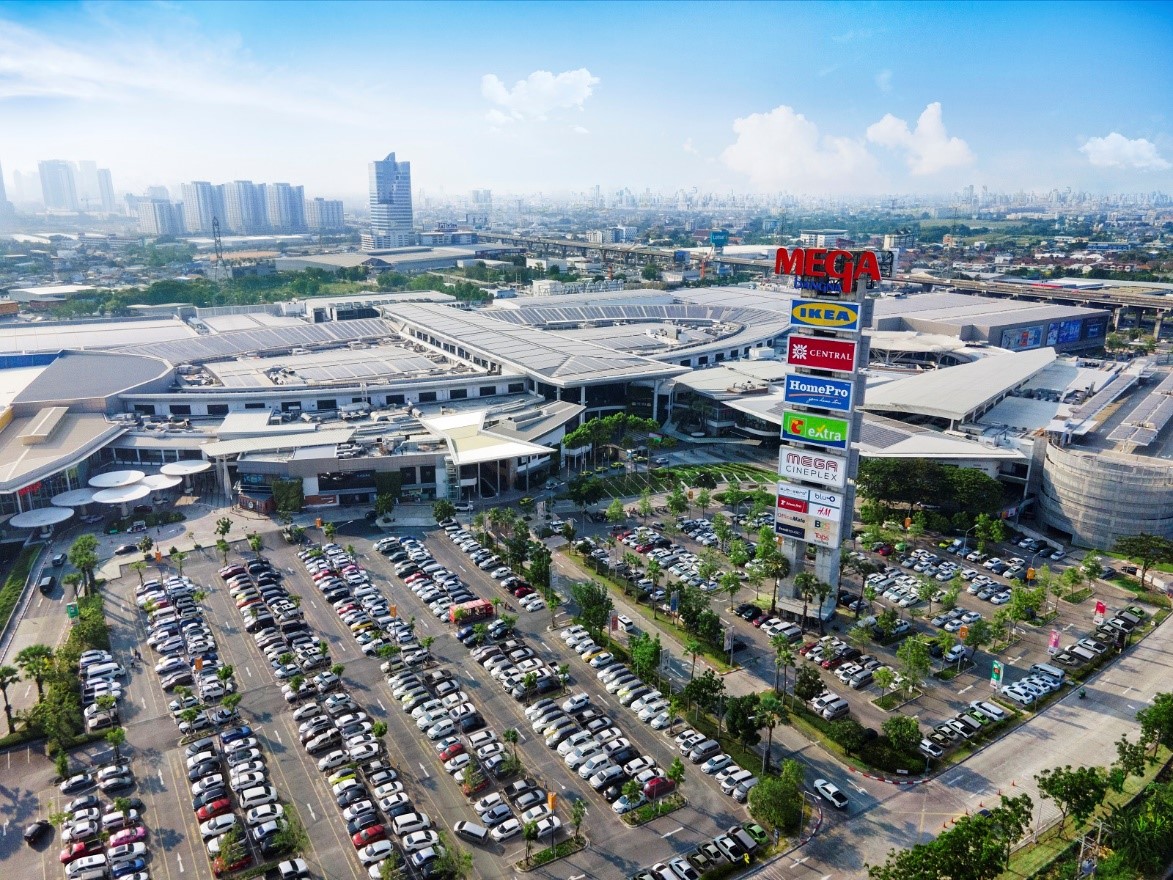 Megabangna, the biggest shopping center in Bangkok, has committed a substantial investment of 1 billion baht to adopt and integrate clean solar energy. (Photo: Megabangna)
However, Thailand's goal to achieve net-zero emission lags many nations, including neighboring countries like Singapore, Malaysia, Vietnam, and Laos. Those countries had set their time in 2050, which is 15 years earlier than Thailand.
Somkiat Tangkitvanich, president of Thailand Development Research Institute (TDRI), said Thai government lacks a comprehensive transition strategy which jeopardize competitiveness in exports and in attracting foreign direct investment while global industry leaders trying to maintain their environmentally friendly image and consumer appeal, and enforcing strict standards on energy use and carbon emissions in their supply chains.
"Failing to implement low-carbon policies will render Thai businesses and the workforce ill-prepared for evolving needs, leaving Thailand trailing behind in the global economy." he said in TDRI annual conference. He gave a keynote speech, and the transcript was edited and published as OP-ED on Bangkok Post few days later.
Somkiat calls for reform of power industry which produces 42% of Thailand's carbon emission and revamp the transportation system, which produces another 22% of greenhouse gases. He also advised the government to start collecting carbon emission taxes and carbon pricing "to make polluters financially accountable for their greenhouse gas emissions."
TDRI estimates that if the carbon tax starting at only 175 baht per ton of carbon, gasoline price would increase by 1.1%, diesel by 1.4% and electricity by 1.8%. Thailand could reduce emission by 1.2 million tons, or 0.4% and generate over 30 billion baht in additional tax revenue annually which should establish a fund to support green industry.