Thailand Board of Investment (BOI) prepares to implement measures to support carbon credits, paving the way toward achieving 'Net Zero' and providing additional special benefits. The organization is also progressing in its collaboration with the Pollution Control Department to encourage the private sector to assist the agricultural industry in reducing burning practices, ultimately mitigating PM2.5 dust pollution.
Narit Therdsteerasukdi, BOI Secretary General, revealed that BOI is actively preparing to launch a series of persuasive measures along with the existing ones aimed at bolstering carbon credit support.
These measures are set to drive the industrial sector's transition towards carbon neutrality and 'net zero' emissions. This will include overhauling machinery and organizational processes to clean energy, enforcing green energy adoption such as CCUS (Carbon Capture, Utilization, and Storage) or environmental-friendly cooling systems in certain business sectors, as well as implementing equipment modifications designed to reduce greenhouse gas emissions, a practice that has long been in place. However, none of the current policies fully encompass carbon credits yet.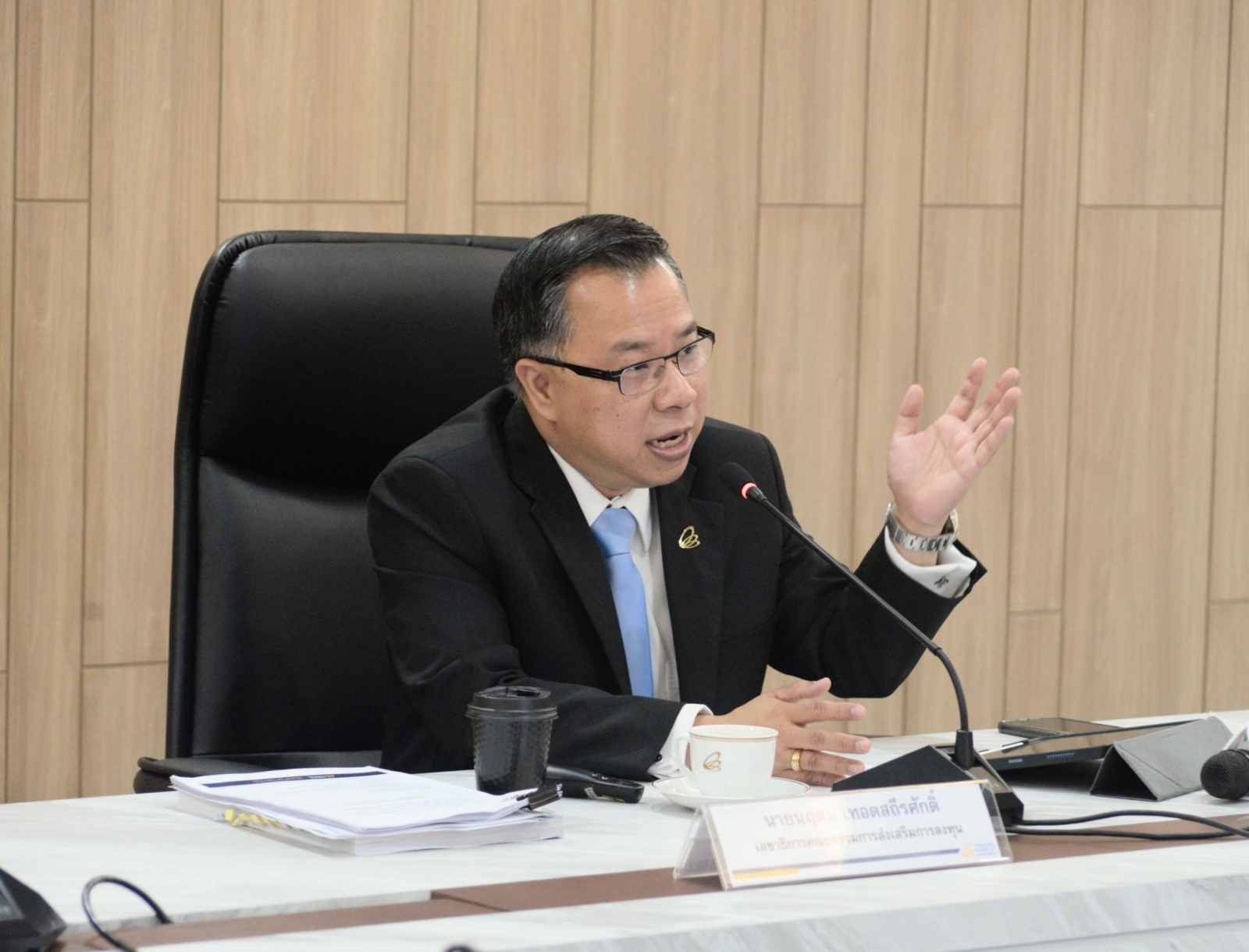 Narit Therdsteerasukdi, secretary-general of the BOI, said his office was in the process of preparing measures to support the purchase of carbon credit. (Photo: BOI)
"BOI is thinking about adding carbon credits to its existing efforts to reduce greenhouse gas emissions. This means that companies with carbon credit trading mechanisms might get extra benefits. It's a new idea that needs more work and discussions with relevant agencies." said Mr. Therdsteerasukdi.
The idea and policies similar to this have also been considered even earlier by some other organizations. In 2021, the TGO or so-called Thailand Greenhouse Gas Management Organization has successfully established Thailand Carbon Neutral Network, fostering collaboration between the private, public, and local sectors to undertake greenhouse gas reduction projects, targeting large-scale companies with an interest and the potential to reduce greenhouse gas emissions. These companies are encouraged to become network members and actively participate in certified carbon credit trading.
Numerous prominent organizations and private companies, such as the Electricity Generating Authority of Thailand (EGAT) and the PTT Group, recognize the significance of the credibility associated with having their operations assessed for their environmental impact, and carbon credit. These organizations would register their eco-friendly factories and facilities, adhering to the carbon credit standard, and even establish their own systems for trading carbon credits. However, as of now, carbon credit trading in Thailand remains a voluntary practice, primarily embraced by larger businesses (B2B) due to its limited scope.
Furthermore, Mr. Therdsteerasukdi continued by stating that there is the ongoing concern of PM2.5 dust, which BOI is currently discussing with the Pollution Control Department. The idea is to introduce a collaborative measure to encourage the private sector to assist the agricultural industry in reducing burning practices, ultimately leading to a reduction in PM2.5 dust levels.
BOI has acknowledged the country's ambitious goals of reducing greenhouse gas emissions by 30-40% in normal operation by 2030, attaining carbon neutrality by 2050, and achieving carbon net zero by 2065. It is determined to lead the way in fostering sustainable, eco-friendly practices and the reduction of carbon emissions, steering Thailand towards a cleaner and more sustainable future.