In recent years, there has been a significant surge in demand for green loans in Vietnam. Many banks are not only allocating their capital for green and sustainable development projects but also seeking support from foreign Development Finance Institutions (DFIs). MSB is the latest one.
According to the State Bank of Vietnam (SBV) report, the annual average growth rate of Vietnam's green credit balance was approximately 23% from 2017 to 2022. The cumulative green credit balance held by Vietnamese banks and financial institutions mounted to nearly 528.3 trillion VND (approximately $22 billion) by Jun 2023, accounted for about 4.2% of the total credit balance. Out of 12 green areas, renewable energy and clean energy account for 45%, and green agriculture is 31%. There are 43 banks and financial institutions engaged in green financing activities so far.
In the field of green financing, however, particularly in renewable energy and green construction projects request a huge investment with longer payback periods. Vietnamese banks and financial institutions primarily rely on short-term loan funds, making it challenging for them to balance their capital mobilization and ensure the appropriate ratio between short-term and long-term loans. Therefore, support from foreign DFIs with longer loan terms can help local banks and financial institutions resolve this issue.
Recently, the Dutch Development Bank (FMO) and the Vietnam Maritime Commercial Joint Stock Bank (MSB) have signed an MOU for medium to long-term loans with a total amount of up to $100 million. The funding is provided by FMO and the Dutch Fund for Climate and Development (DFCD), and is aimed at supporting small and medium-sized enterprises (SMEs) and green projects in Vietnam. The loan term is up to 9 years. Moreover, FMO also assists MSB in upgrading its environmental and social risk management system to meet higher international standards.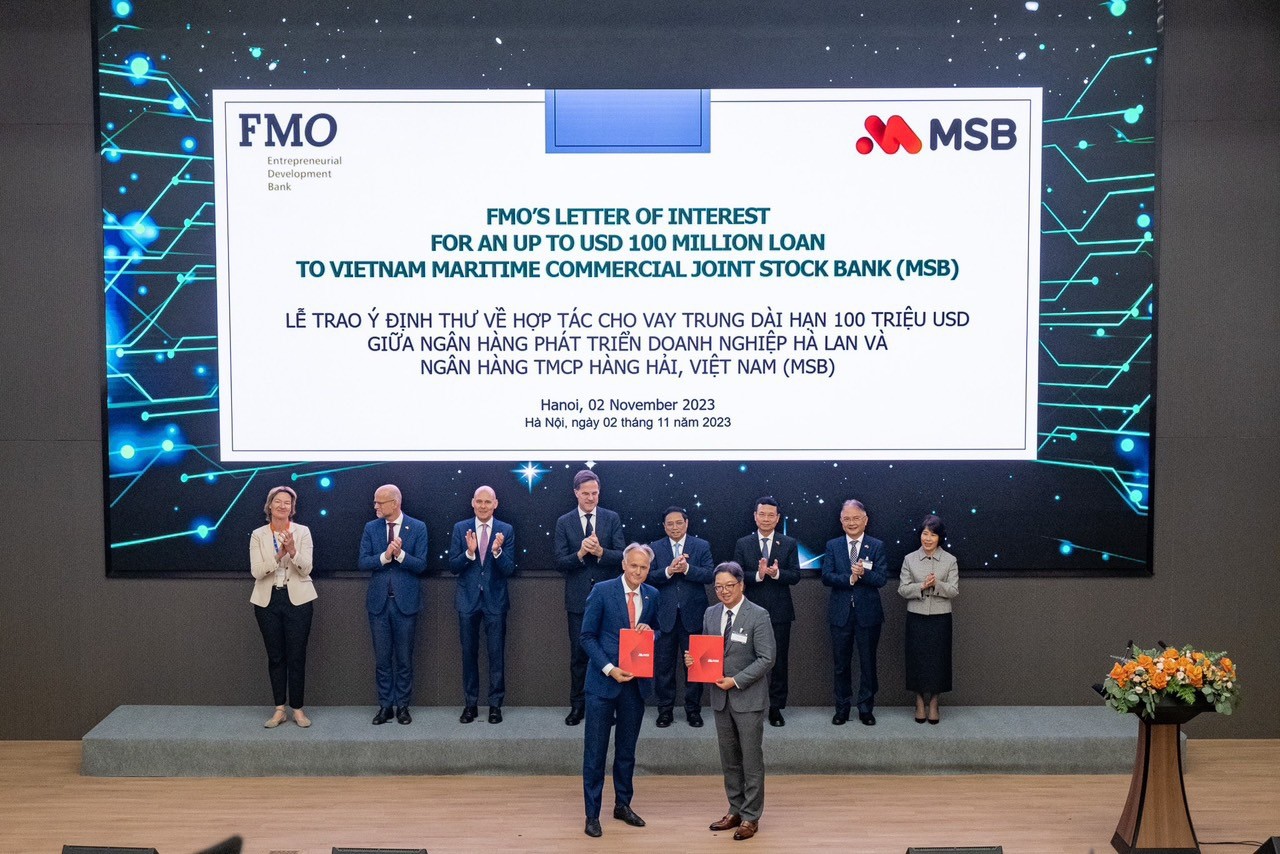 On November 2, 2023, MSB and the FMO signed a Letter of Interest for medium and long-term loan. (Photo: MSB)
According to Nguyen Xuan Bac, Director of the Department of Credit for Economic Sectors of SBV, estimated that the annual growth rate of green loan balances in Vietnam could reach 26% in the future, focusing on green projects with minimal environmental impact, in order to achieve carbon neutrality by 2050. However, recent green loan rates of 4.2% are still far from reaching the target of comprising 10% of the total national economic loans by 2025.
Recently, SBV has implemented various measures to promote green loans. This includes refining the legal framework for green loans and green financing in general, researching and proposing green loan pooling schemes, and strengthening the environmental and social risk assessments for local banks and financial institutions. As of now, the loan balance that completed environmental and social risk assessments is approximately 2,485 million billion VND (103.54 billion USD) , accounting for nearly 20% of the total loan balance.