Green and Smart Mobility Joint Stock Company (GSM), a ride-hailing firm founded by the owner of Vietnam's electric vehicle (EV) maker VinFast, has launched its electric taxi service this month in Vientiane, Laos, to promote green mobility in Southeast Asia.
According to the statement, expanding into the first foreign market marks a step further in GSM's "Go Green Global" strategy to establish itself as an international electric mobility services provider and boost the adoption of green mobility beyond borders.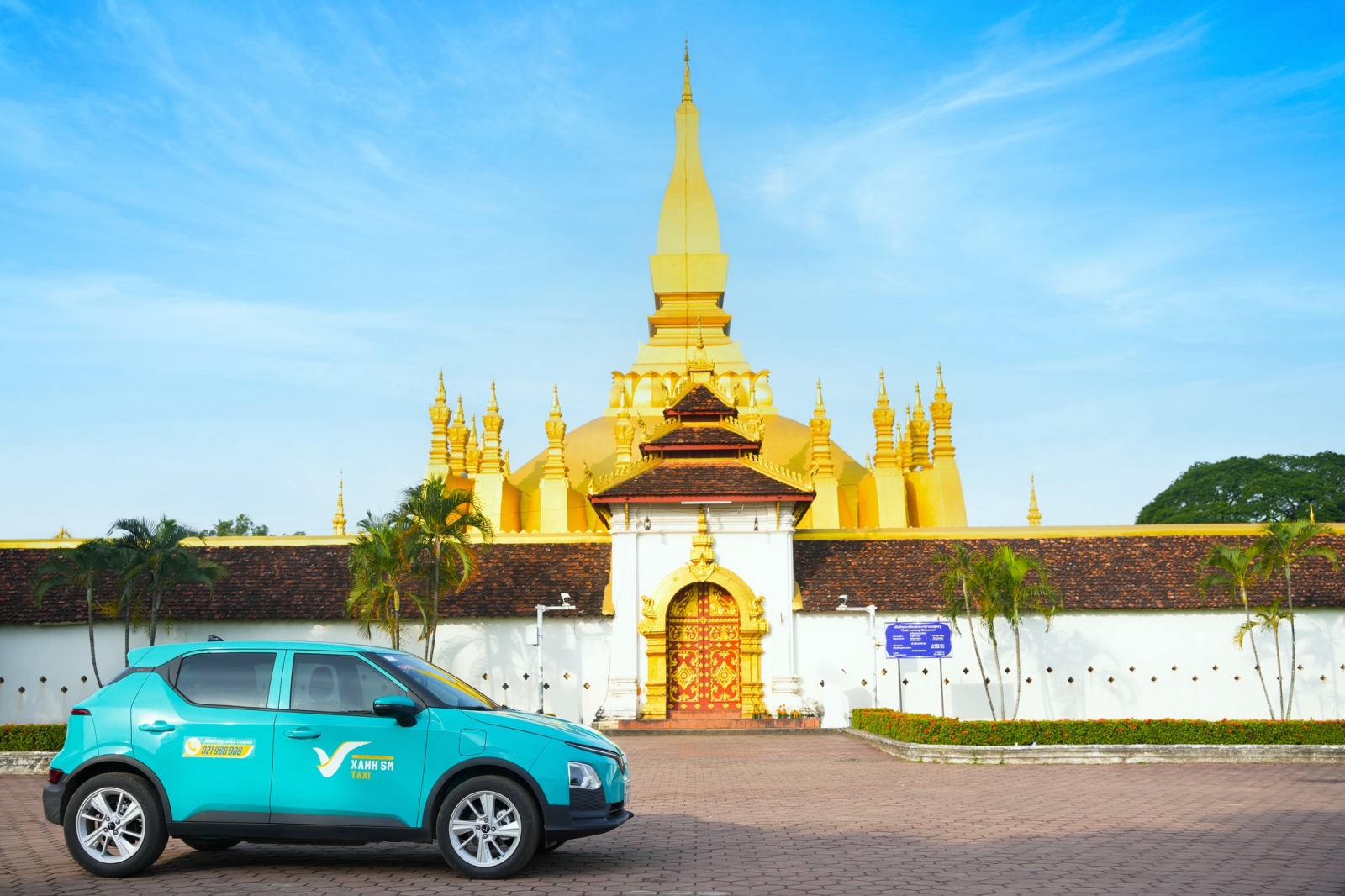 (Photo: Xanh SM Laos)
In the initial stage, Xanh SM Laos will employ the VinFast VF 5 Plus electric cars for its taxi fleet. Residents of Vientiane and international tourists visiting Laos now can book taxi services through the app or simply to hail taxis directly from the streets.
Every journey's route and fare information will be made transparently available to make sure clarity and convenience.
The company is currently operating primarily in Vientiane Capital. The plan is to increase the fleet to 1,000 vehicles and expand to other popular destinations like the tourism town of Vang Vieng, as well as other provinces and cities such as Luang Prabang, Savannakhet, and Champasak in the coming phases.
Nguyen Van Thanh, Global CEO of GSM, said the firm will keep exploring and innovating to create a unique fusion of local culture with international service standards that pledges to deliver an exceptional experience to local residents as well as international visitors in Laos.
"Working alongside VinFast, we determined to push forward eco-friendly mobility worldwide, paving the way for a better and more sustainable future," he said.
GSM commits to providing customers with 100% pure EVs and five-star service standards including premium vehicle quality, and a dedicated team of professional drivers that contribute to enhancing the standard of passenger transportation services in the "Land of a Million Elephants".
Xanh SM Laos is planning to expand its operations throughout the country and is expected to create thousands of job opportunities for local residents.
In addition to providing zero-emission transportation services, GSM aims to stimulate the widespread of EVs by developing a green mobility services ecosystem. That includes electric vehicle leases, and advanced services such as package car rental, travel, and personalized car rental.
GSM said it is set to expand quickly to other Southeast Asian countries following its success in Laos. It said the firm's ability to offer its ride-hailing services through multiple platforms from the app, call center, and on-the-road bookings, provides it with a competitive advantage both regionally and internationally.