As carbon taxes and credits become more prevalent across global markets, Vietnam is seeking ways to demonstrate its responsibility in decarbonization and help local businesses adapt to change. An official circular on measuring greenhouse gas emissions is expected to be released this month, taking the nation a step closer to its goal of net-zero emission in 2050.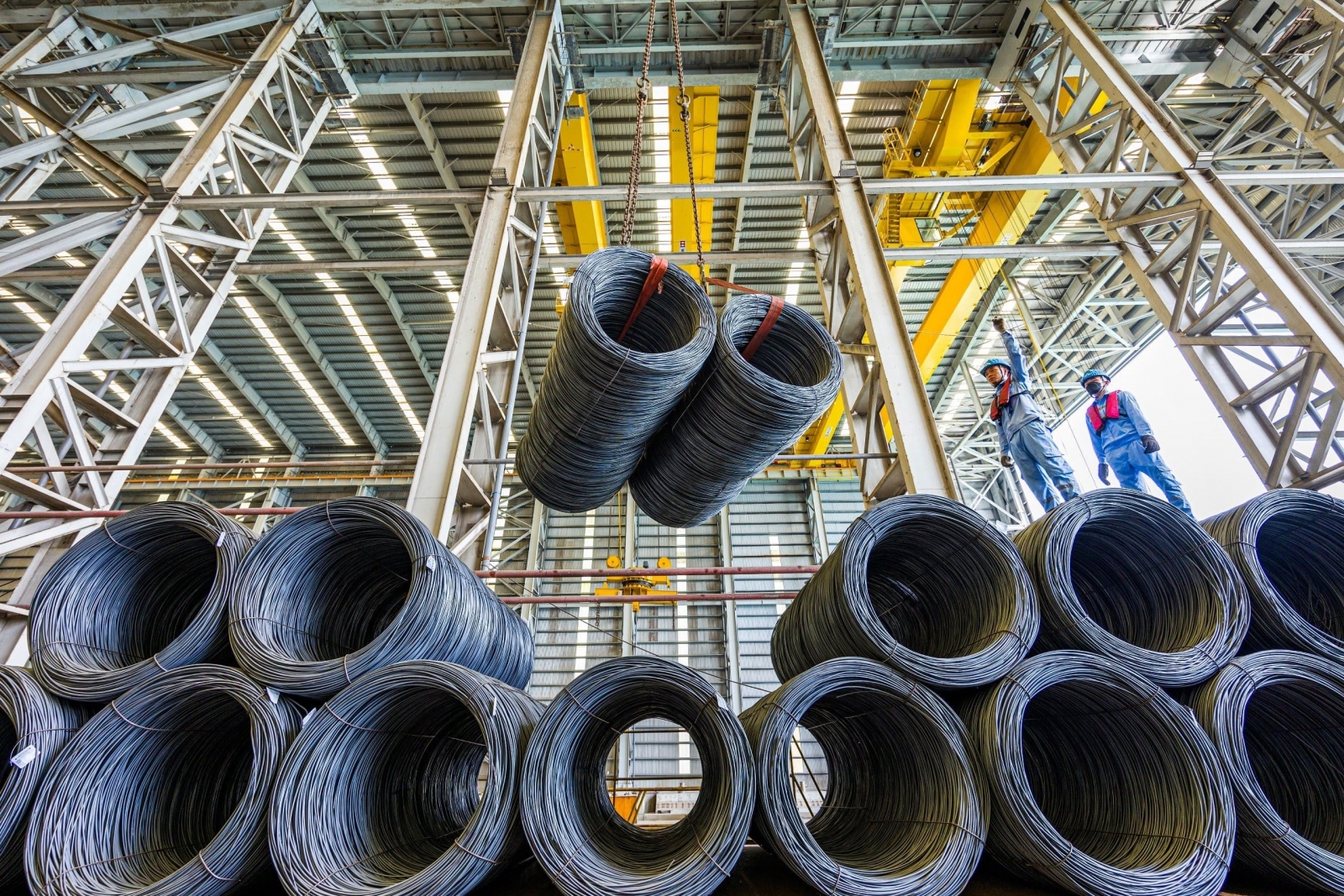 Steel manufacturing is among the industries subject to greenhouse gas inventory reporting in Vietnam. (Photo: Hoa Phat Group)
Mandatory greenhouse gas emissions set for 2025
The circular, led by the Ministry of Industry and Trade (MoIT), will be followed by training courses for businesses to comply with emission control to limit the carbon footprints throughout the supply chain.
The measurement, reporting and verification of greenhouse gas emissions mitigation will be mandatory in 2025 for industries including steel, cement, aluminum and fertilizer production, said deputy head of MoIT's Climate Change and Green Growth Office Hoàng Văn Tâm.
The move is seen as part of Vietnam's bigger response to changes in the carbon tax regulations already initiated across the world, one of the most notable being the Carbon Border Adjustment Mechanism (CBAM) introduced by the EU.
The country's steel industry saw significant growth in exports to the EU, especially with the EU- Vietnam Free Trade Agreement (EVFTA) taking effect in August 2020.
According to the Vietnam Steel Association, as of June 2020, steel exports to the EU accounted for only 3.4% of the total steel export turnover. After two years, the figure rose to 20.51% In the first six months of 2023, Vietnam exported nearly 1.4 million tons of steel to the EU.
"The global carbon pricing policies, including the CBAM, signal to all businesses in the country, large or small and medium, that they have to think about reducing emissions and carbon footprints in their production and supply chain," he said.
Transition period is necessary for carbon tariffs
Jennifer Pham, regional sustainability advisor at the Danish Embassy in Vietnam, explained the mechanism: "It ensures that sustainability doesn't become a barrier for businesses that are operating in the EU where there are higher, stricter requirements on environmental friendliness, or become a negative factor in a business's ability to compete on the market."
"There is also the hope that through measures used in CBAM, we are able to encourage local climate action and create incentives necessary for businesses or governments elsewhere to also implement similar targets," she said.
She also noted that a period of transition is necessary, and there will be certain challenges in the administration behind CBAM compliance. The type of carbon recording, for example, is new not only to the companies in Vietnam but also to many in the EU.
Phạm Ngọc Tiến, vice president of the Foreign Trade University, said that the EU is the only one applying CBAM for now, and therefore, producers and exporters of carbon-intensive products may divert supply to other markets to avoid the carbon taxes. However, this will no longer be possible when CBAM or other similar mechanisms become more prevalent, then the impact will be massive.
SAF is the key to decarbonize aviation industry
It is not only manufacturing businesses that are preparing for carbon reduction. The aviation industry, for instance, has seen several decarbonization actions. In October 2022, the International Civil Aviation Organization set out its "long-term aspirational goals", that all the members agree to reach net-zero in 2050.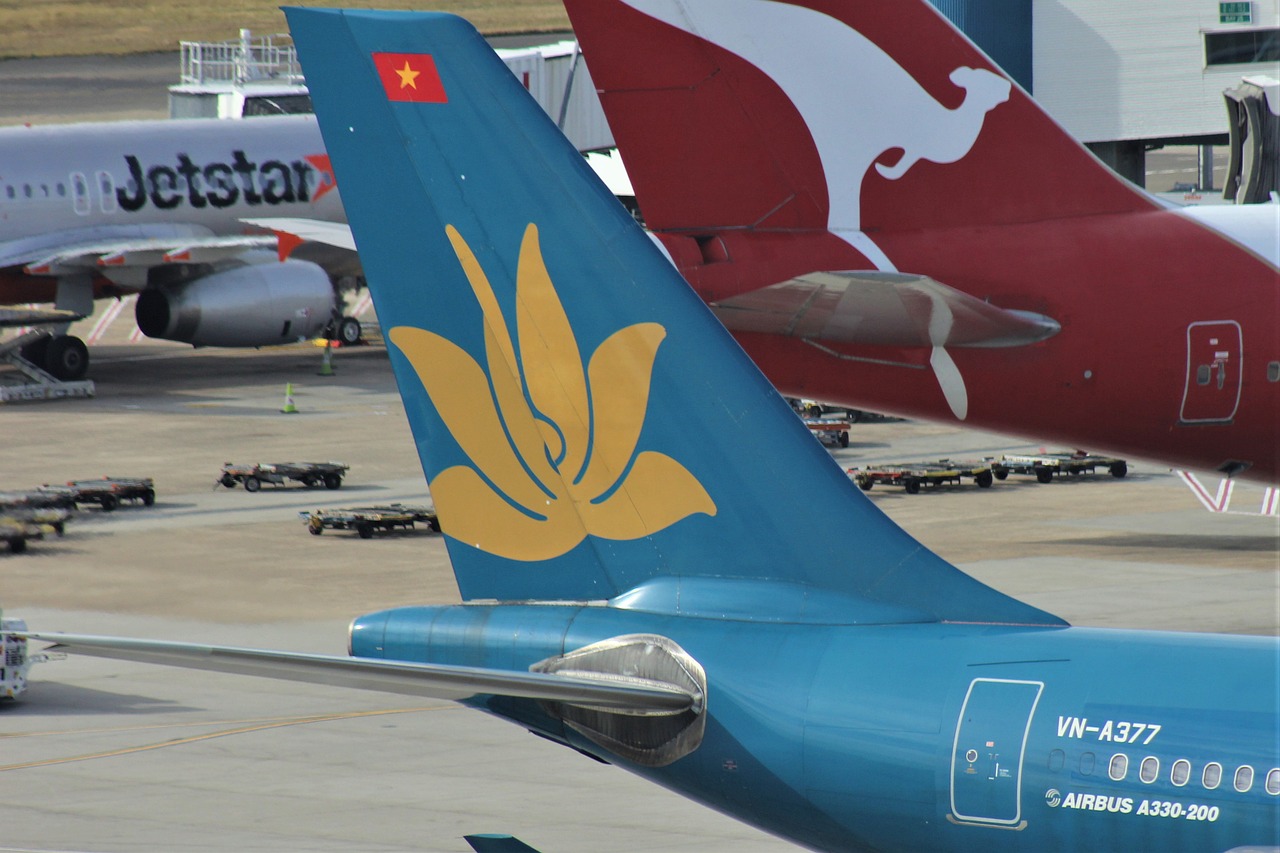 Aviation accounts for a relatively small share of global emissions but is one of the most challenging sectors to decarbonise, according to the IEA. (Photo: Image by Nel Botha from Pixabay)
Nguyễn Quang Trung, corporate development director of the flag carrier Vietnam Airlines, said that new-generation aircraft can help lower fuel consumption, but the high number of flights coupled with the amount of time needed for new technology to be widely available may hinder the effort.
He noted that the major contributor to reducing emissions is expected to be sustainable aviation fuel (SAF), which studies have found to contribute 60% to decarbonization innovations.
He said: "But we need a lot of research and innovation to reduce the cost of SAF production and to increase the quantity of it. SAF now only makes up 1% of aviation fuel, and the price is often two to four times higher than the current fuel." Also, SAF distribution and production are also not yet available in Vietnam.
Vietnam's SMEs need technical support for transition
Tâm believed that international resources, particularly technical support, are essential for Vietnam in the future, "I think the biggest issue here is about finance and technology, which provide businesses at the grassroots level opportunities for energy transition and decarbonization in the short, medium and long term."
Recent data from Vietnam General Statistics Office revealed that small and medium-sized enterprises (SMEs) account for over 97% of the total number of businesses in the country.
Florian Beranek, executive board member of the Central and Eastern European Chamber of Commerce in Vietnam, believes that whether it's called ESG, CSR (corporate social responsibility) or business ethics, the core is all about integrity.
"I would highly recommend everybody who is in business to first come back to your common sense, to your natural radar of morality of ethics, and then make your business decisions. If you do so you don't have to worry about all these requirements," he said.