Taipower's Round 1 auction, which offered 10 million kilowatt hours of small-amount green energy, was undersubscribed, with only 50 companies bidding for 360 contracts and resulted in 47 winners.
Small and medium-sized enterprises (SMEs) showed little interest, accounting for only 20% of the bidders. Some private sectors believe that the small amount of green energy cannot meet demand from SMEs, and with limited offers and the highest bidder always wins, the costs of green energy remain high.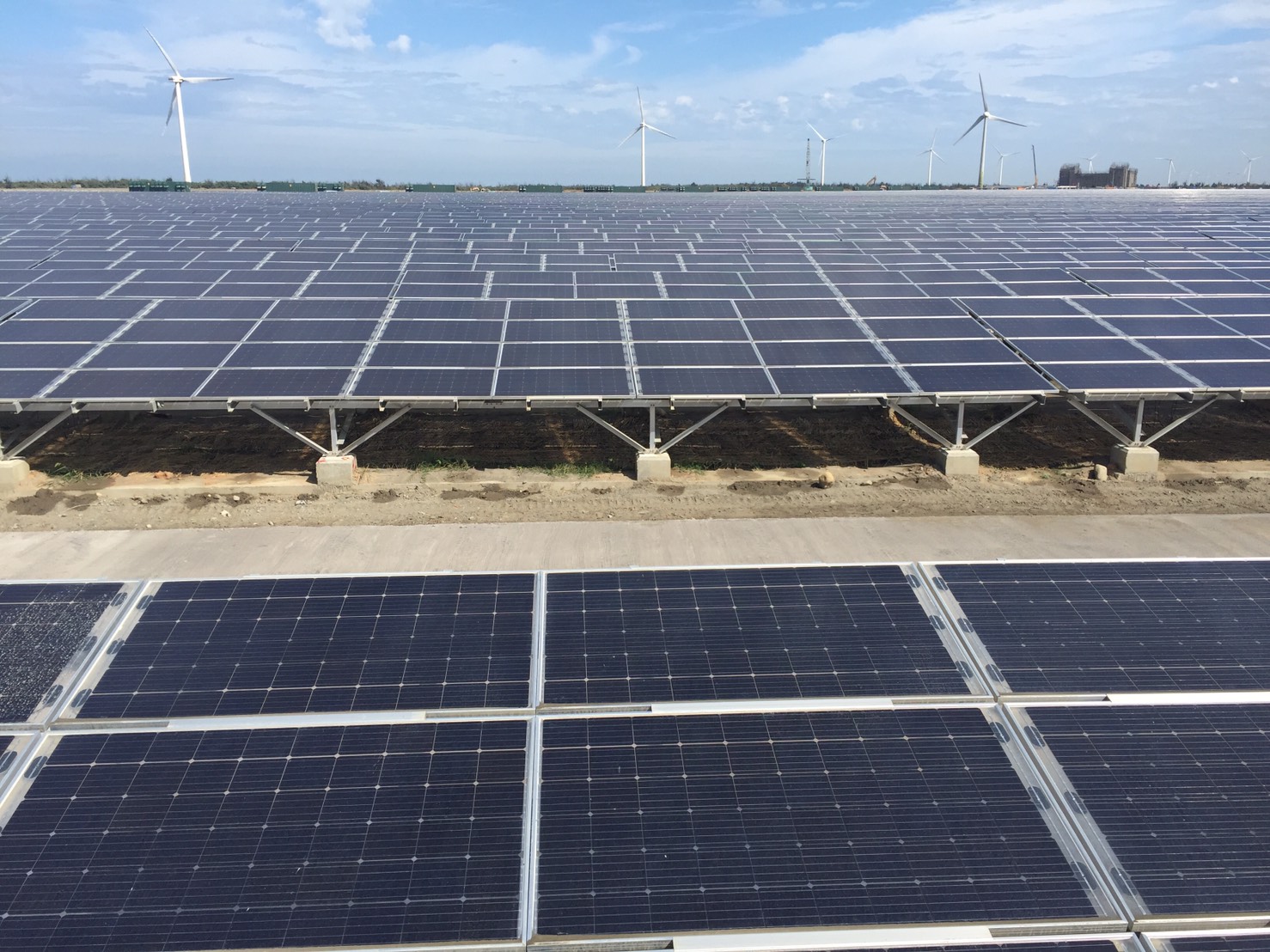 Taipower's Changhua Coastal solar park (Photo: Ministry of Economic Affairs)
Winning bid prices remain high for SMEs
According to Taipower, the Round 2 auction for small-amount green energy will be held on Nov. 15, which will offer an additional 100,000 kWh of green energy. The winning bid prices in the first round of auction averaged at NT$4.9-5.5/kWh, a level that was believed by Greenpeace too high, compared with the FIT rate of NT$3.868/kWh for ground-mounted PV published by the Bureau of Energy for the second half of the year.
Despite good intention of the scheme for small amounts of green energy, using bidding mechanism in a market with limited offers and where highest bidder always win is unable to drive down green energy costs and help SMEs obtain green energy, Climate & Energy Campaigner Fang Chun-wei (方君維) of Greenpeace East Asia said.
What SMEs want is not just green energy but cheaper prices, according to BD Manager Eric Yang (楊哲源) of Sunny Founder. "From an electricity retailer perspective, we do have green energy. What buyers mean for not able to acquire green energy is not able to obtain green energy with cheap prices," Yang said.
Bidding rules too strict
Regarding the bidding rule of "one customer number, one contract," Yang said that the rule indeed affects the willingness of companies, which still need to purchase green energy from private electricity retailers if they cannot acquire enough from public tender.
"Taipower hopes to open green energy to all companies, but it cannot fulfill specific demand from SMEs," Yang said.
The scheme for small amount of green energy should be more flexible, said Richard Hsu (許博涵), secretary general of Taiwan Association of Green Energy Transition, adding that there were only six types of green energy contracts in the first batch, and the awarded amount of green energy for one customer number was few, making both large and small companies reluctant to participate.
Taipower should make green energy trading more open and diverse in the future, secretary general Kao Ru-ping (高茹萍) of Taiwan Renewable Energy Alliance said. This way, private electricity retailers can trade via the platform while companies can purchase wind, solar, or geothermal energy freely on the platform.
To boost the green energy market, Kao suggests the small-amount green energy scheme include Chunghwa Telecom, Taiwan Mobile, and Far EasTone, the three major telecom providers of Taiwan, for companies to compare, as it's hard to say whether the prices are reasonable when Taipower is the only green electricity provider now.
Greenpeace urges self-consumption of green energy
To address green energy shortages, Greenpeace suggests companies adopting self-consumption, which can help businesses reduce their energy bills while increasing the production of green electricity.
Government should provide incentives or matchmaking service to help businesses become a producer and consumer of green energy, so they don't need to rely on trading or bidding mechanism to acquire green energy, said Fang.
Under the self-consumption model, businesses should consider both options of indirect supply and self-consumption and accelerate the share of green energy with controllable costs.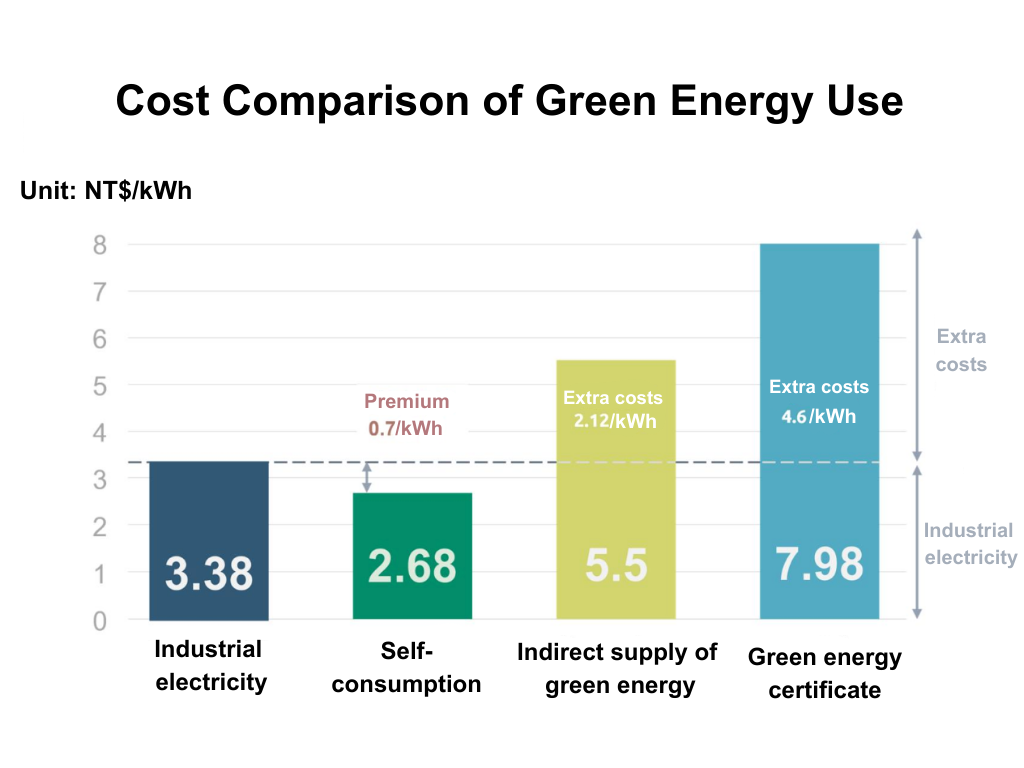 Greenpeace reports that Taiwan's green energy supply on the free market is insufficient. Self-consumption is the most cost-effective option. (Source: RE10X10 Renewable Energy Initiative Annual Report 2022 Greenpeace)
The U.S.' solar tax credit, for example, is an incentive scheme that encourages businesses to own or invest solar systems for green energy production and provides tax credits based on the amount of investment or electricity generated, Fang said.
Most businesses were sitting on the fence for Round 1 auction. This is because Taiwan's major electricity consumer clause is loose, while many businesses don't have a sense of urgency for green energy procurement despite the implementation of the EU's Carbon Border Adjustment Mechanism (CBAM), Kao said.
"Businesses should be aware of the carbon costs on exporters in the future even if they don't use green energy," Kao added.