Introduction
Carbon Footprint Label, also known as Carbon Emission Label, is a labeling method used to display the carbon emissions of companies, production processes, products (including services), and individuals. Its meaning refers to total carbon dioxide equivalents converted by greenhouse gases generated through each stage of the product life cycle, including raw material acquisition, manufacturing, distribution and sales, consumer use, and disposal and recycling.
Taiwan's product carbon labeling system was introduced in 2009 and is developed in two phases:
Promote product carbon footprint disclosure
At present, there is no international standard for the product carbon labeling system, and there are few products that have obtained carbon labels. It is difficult to compare the carbon footprints of similar products with each other. Therefore, the goal is to encourage manufacturers to analyze the carbon footprint of their products and aim for carbon footprint disclose of their products.
For manufacturers, analyzing the carbon footprint of a product helps them understand the proportion of greenhouse gases generated by the product in each life cycle stage, and further plan carbon reduction such as reducing product packaging, improving transportation efficiency, and requiring upstream suppliers to cooperate to reduce product carbon footprints and form a green supply chain, which reduces costs in the meantime.
Develop a carbon reduction labelling system
Based on the current carbon label, manufacturers use the carbon footprint value on the carbon label certificate or the verification statement of an accredited third-party inspection body as the carbon reduction baseline and propose specific carbon reduction commitments and implementation methods. Those who have achieved a carbon reduction of more than 3% and passed the Environmental Protection Administration (EPA) review can obtain the right to use the carbon reduction label.
For manufacturers, products that have obtained carbon labels and carbon reduction labels will be applicable to the "Green Point" program; and, as an incentive, products with carbon reduction labels can also be incorporated into the procurement of government agencies.
Application procedure
The application steps for obtaining a carbon label are as follows. Enterprises need to select the target product before proceeding with the application process.

Figure 1 / Source:Taiwan Product Carbon Footprint Information Platform
Application procedure:
Complete the inventory of product carbon footprints in accordance with ISO 14067:2018 and product carbon footprint management guidelines issued by the EPA as the calculation standard.

Carry out product carbon footprint declaration and verification, including self-declaration and third-party verification. Current carbon label application to the EPA must be accompanied by a "verification statement" issued by a third-party inspection body.

To apply for a carbon label, it is required to go to the Taiwan Product Carbon Footprint Information Platform for online application. Print the documents in triplicate and submit to the executive department entrusted by the EPA after checking the completeness and qualification.

Products will be reviewed by the EPA's carbon label review team, and the review results will be divided into pass, pass after amendment, retention and fail.

Products that pass or pass after amendment will be issued a carbon label certificate; when it's retention or fail, they will be re-submitted to the review team for review. The validity period of the carbon label certificate is 5 years, and the applicant may apply for an extension within 3-5 months before the expiration date.
Certification and inspection agencies
The current accredited inspection agencies are as follows:

Table I
Illustration
Carbon Label

Carbon Reduction Label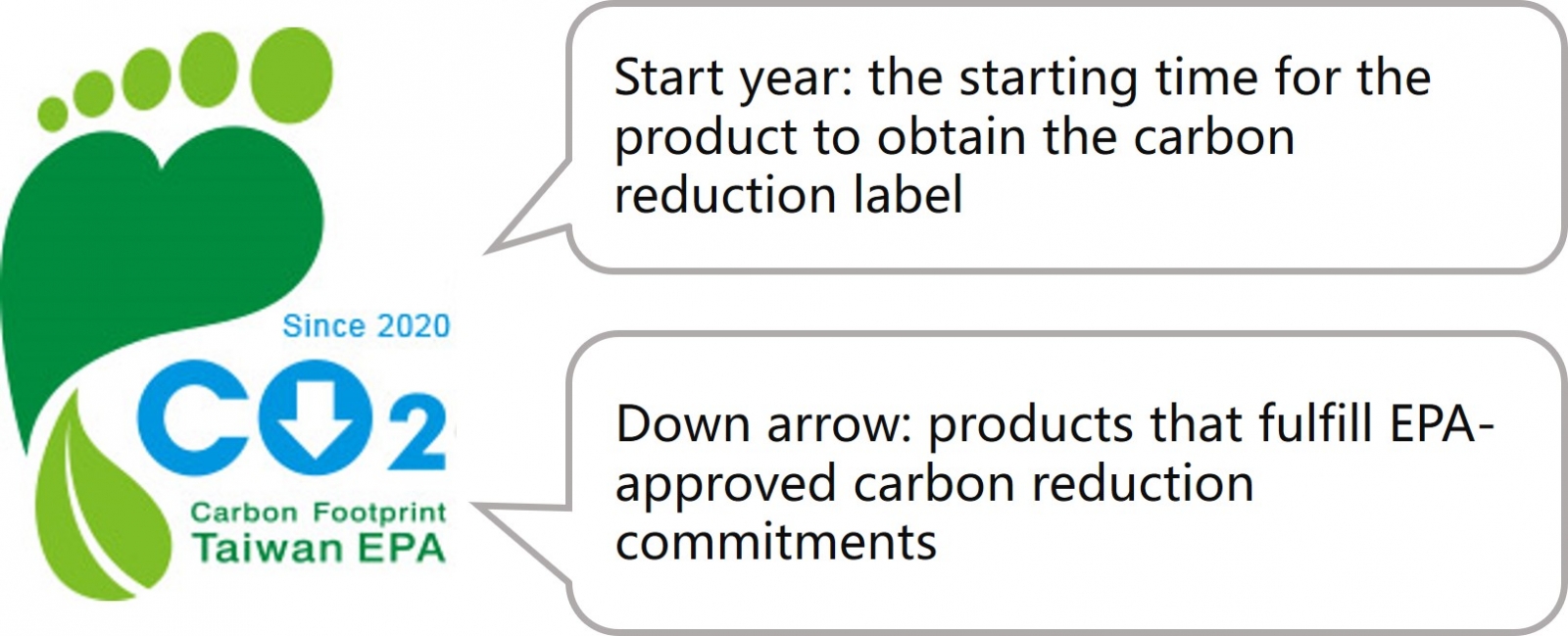 Source:Taiwan Product Carbon Footprint Information Platform
Actual Case
Taiwan High Speed Rail has calculated the carbon footprints, and the ticket also has a carbon label printed on it. The carbon emission when taking the HSR per person per kilometer has dropped from 38g to 32g.

Source:Taiwan Product Carbon Footprint Information Platform