Introduction
The United Kingdom is the first country in the world to introduce the carbon footprint labelling scheme for products. In March 2007, the Carbon Trust launched the world's first batch of products labeled with carbon labels, including potato chips, milkshakes, shampoo, and other consumer products. In February 2008, Carbon Trust expanded the application of carbon labels, including 75 items of products from 20 manufacturers including Tesco and Coca-Cola.
The product categories with carbon labels in the United Kingdom involve all B2B and B2C products and services, including food, clothing, and daily necessities. In order to use a standard method for calculating the carbon footprint of products and services, Carbon Trust began to study and evaluate the carbon footprint method in 2006; and in June 2007, together with Defra, commissioned the British Standards Institution (BSI) to carry out formal research work, namely PAS2050 – Specification for the assessment of the life cycle greenhouse gas emissions of goods and services. The standard was officially announced in November 2008, and is available for free download by relevant enterprises and institutions.
Label types and descriptions
The carbon label provided by the Carbon Trust is designed as a footprint icon with five core elements, namely the footprint icon, the carbon footprint value, the icon approved by the Carbon Trust, the manufacturer's emissions reduction commitment, and the carbon label website for consumers to learn more.
In addition, the Carbon Trust has launched a total of seven related labels, which are as follows: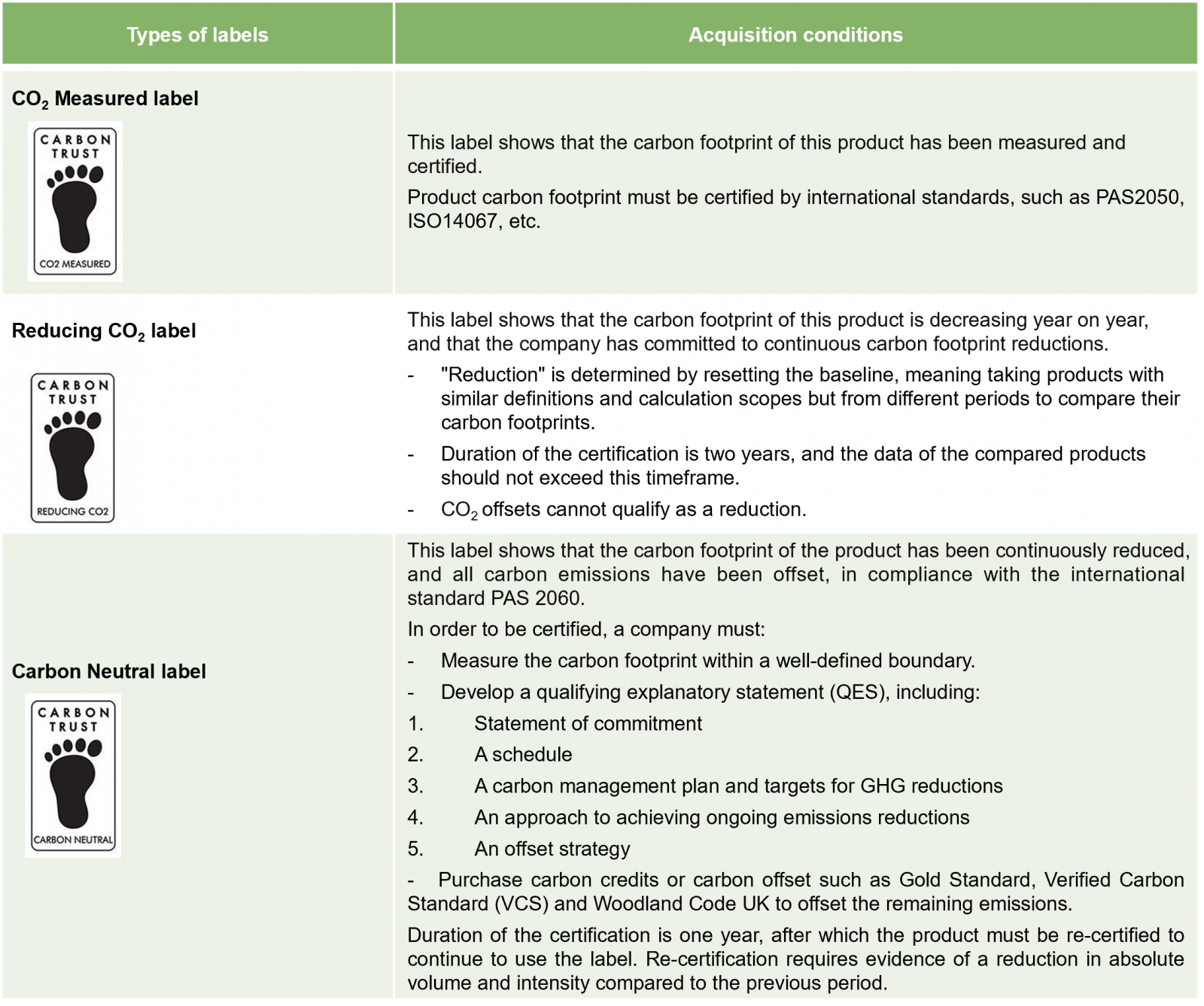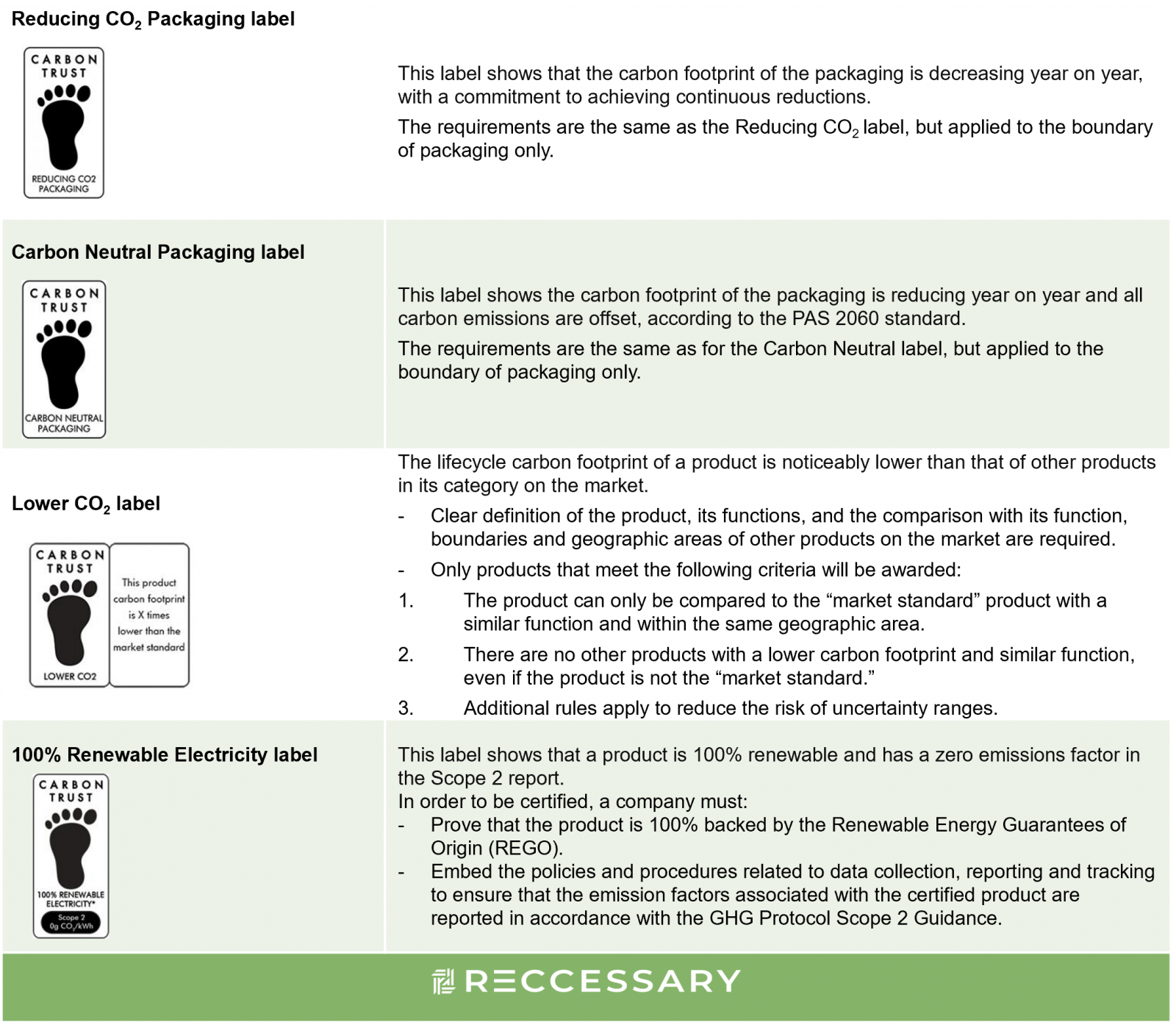 Source:Carbon Trust
Comparison basis
The labels launched by the Carbon Trust include the Lower CO2 label and thus comparison rules are developed as a basis. The following are the five comparison methods: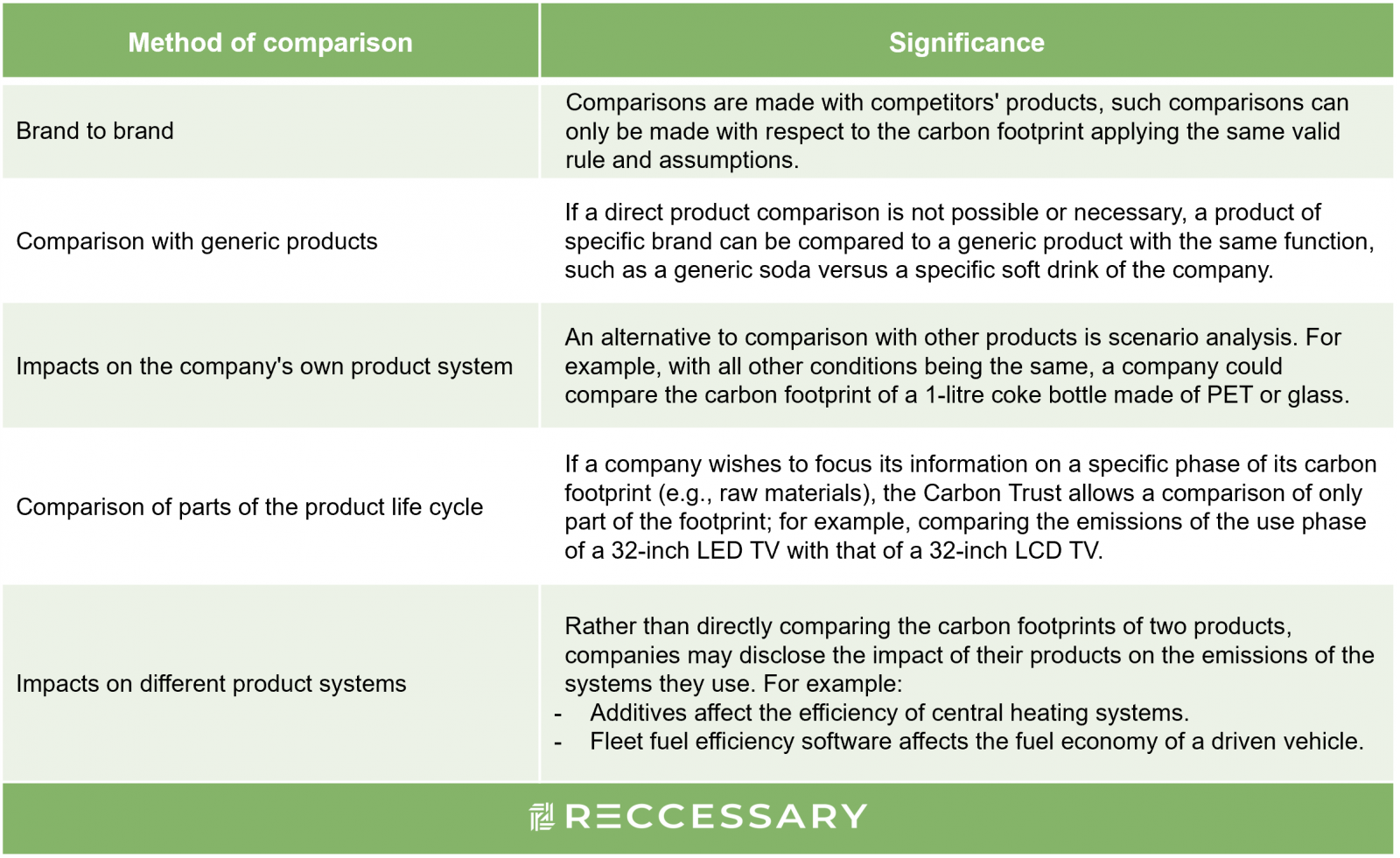 Source:Carbon Trust
Actual case
Danone, a Paris-based food & beverage company, used its mineral water brand Evian to apply for a carbon neutral label. The third-party verification agency certified that the bottled water it sold to France, the United States and Canada was carbon neutral. Evian has officially obtained the carbon neutral label in September 2017.
Danone uses Evian as a carbon reduction pilot for other businesses, and launches the following carbon reduction measures:
Invest 280 million euros to build a bottling plant powered entirely by renewable energy.

Shift to low-carbon logistics, including using one of the largest private train stations in France.

Increase the share of recyclable packaging content around the globe from the current 30% to 100% by 2025 (excluding caps and labels).

Partner with the Livelihoods Carbon Fund to help protect and restore ecosystems by planting 130 million trees worldwide.