Introduction
French NF Environment label (Norme Francaise Environnement Mark) is an official eco-label with two main functions: the first is to meet the information requirements for product environmental protection; the second is to recognize and reward companies that have considered environmental protection factors in the production process. The French Environment label was founded in 1991 and is managed by the French Standardization Association (AFNOR), which has a French eco-label committee consisting of 18 representatives from industry, manufacturers, wholesalers, consumers and environmental protection associations for management. At present, products obtained NF are divided into 21 categories, covering consumption services, construction, sanitary equipment, consumer goods, appliances and electronic equipment, etc.
Application procedure
When the product meets the standard, the applicant can submit the documents to the AFNOR certification department to apply for the environment label. After receiving the application, the AFNOR certification department will assign reviewers to the factory for inspection and bring the product samples back for analysis and investigation.
The qualification of the product will be stated in the review report and test report if meeting relevant product guidelines, and the applicant can obtain the NF Environment label. A regular sampling inspection is required after obtaining the label.
There are 13 third-party verification bodies authorized to provide NF certification: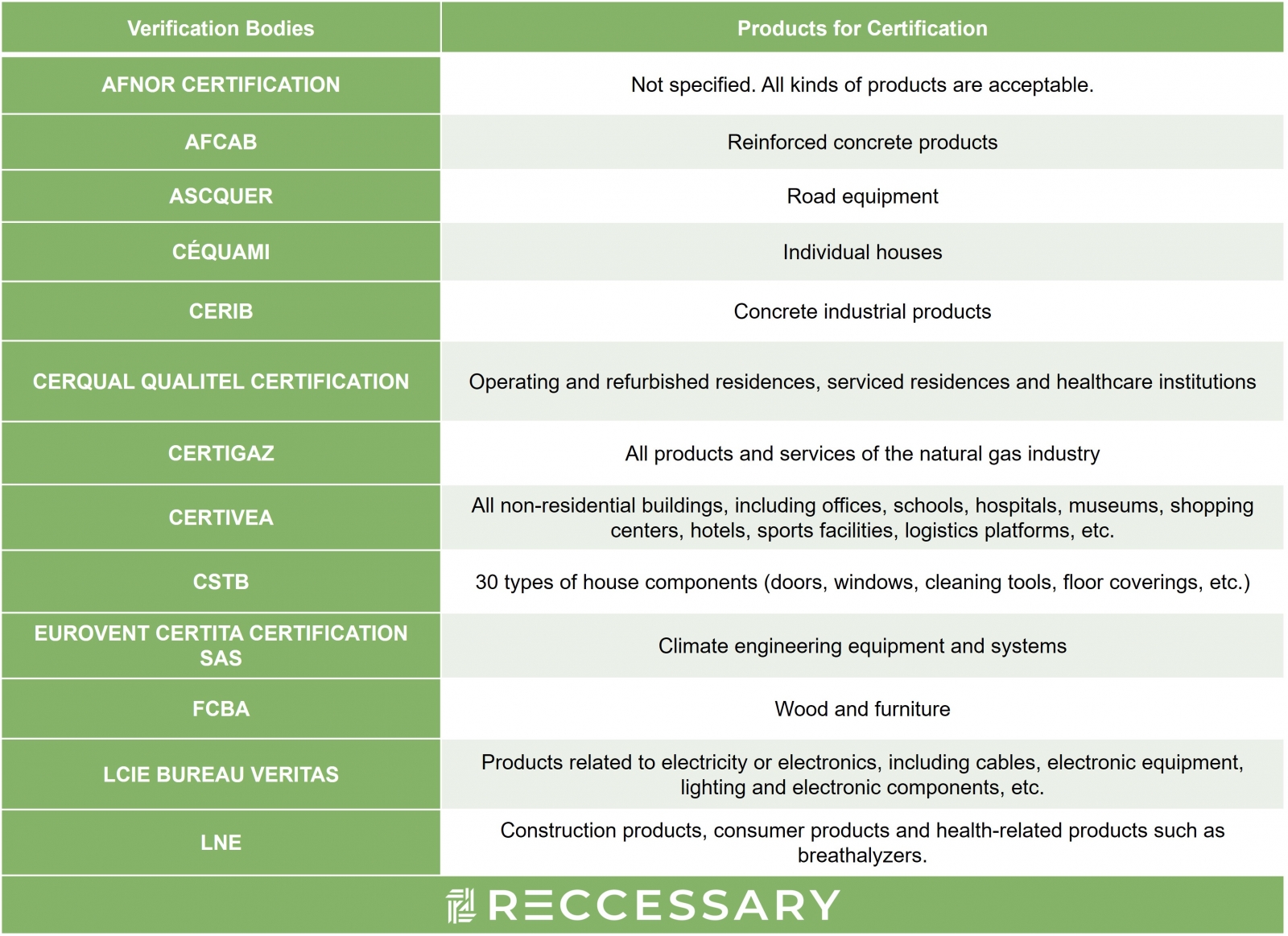 Table I / Source:NF
Application fees and royalty
Additional fees are required for the application and use of the NF Environmental label.
Application fee: 1,210-2,422 francs (excluding tax and regardless of the quantity of the product).

Data management fee: 1,234 francs/day (excluding tax per product); 620 francs for second guidance (excluding tax).

On-site inspection fee: 1,114 francs/day (excluding tax).

Qualification testing fee: not necessarily required.

Annual royalty: 0.1% of the annual sales of the labeled product, with a maximum of 7,915 francs and a minimum of approximately between 646 and 1,614 francs (depending on product rules).
Illustration

Source:NF