In recent years, governments in East Asia1 have seized the opportunities of foreign capital inflow in the renewable energy market and have taken policy measures to stimulate investment in renewable energy. According to a report by Greenpeace Japan, there will be renewable energy investment opportunities worth 205 billion U.S. dollars in Southeast Asia over the next decade. However, as green energy supply increases, many multinational companies and manufacturers have publicly pledged to achieve 100 % renewable energy by a certain year and further required supply chains to go green. In East Asia, the center of original equipment manufacturing, demand for green energy becomes increasingly urgent, while the current renewable energy market is significantly in short supply. Against these backdrops, is it possible for such a market situation to turn around by 2030?
Renewable energy market supply
The figure below shows the progress in power generation sourced from renewable energy in various countries. The average green electricity ratio in East Asia is about 11 %, which is far from meeting the goal of over 20% set by multiple countries. However, the future development of renewable energy can still be projected from related plans formulated by governments. The following is the factors to be considered in East Asia:
Historic data of renewable energy power generation
Policy framework
Estimation of the renewable energy supply from 2022 to 2030 based on local market situation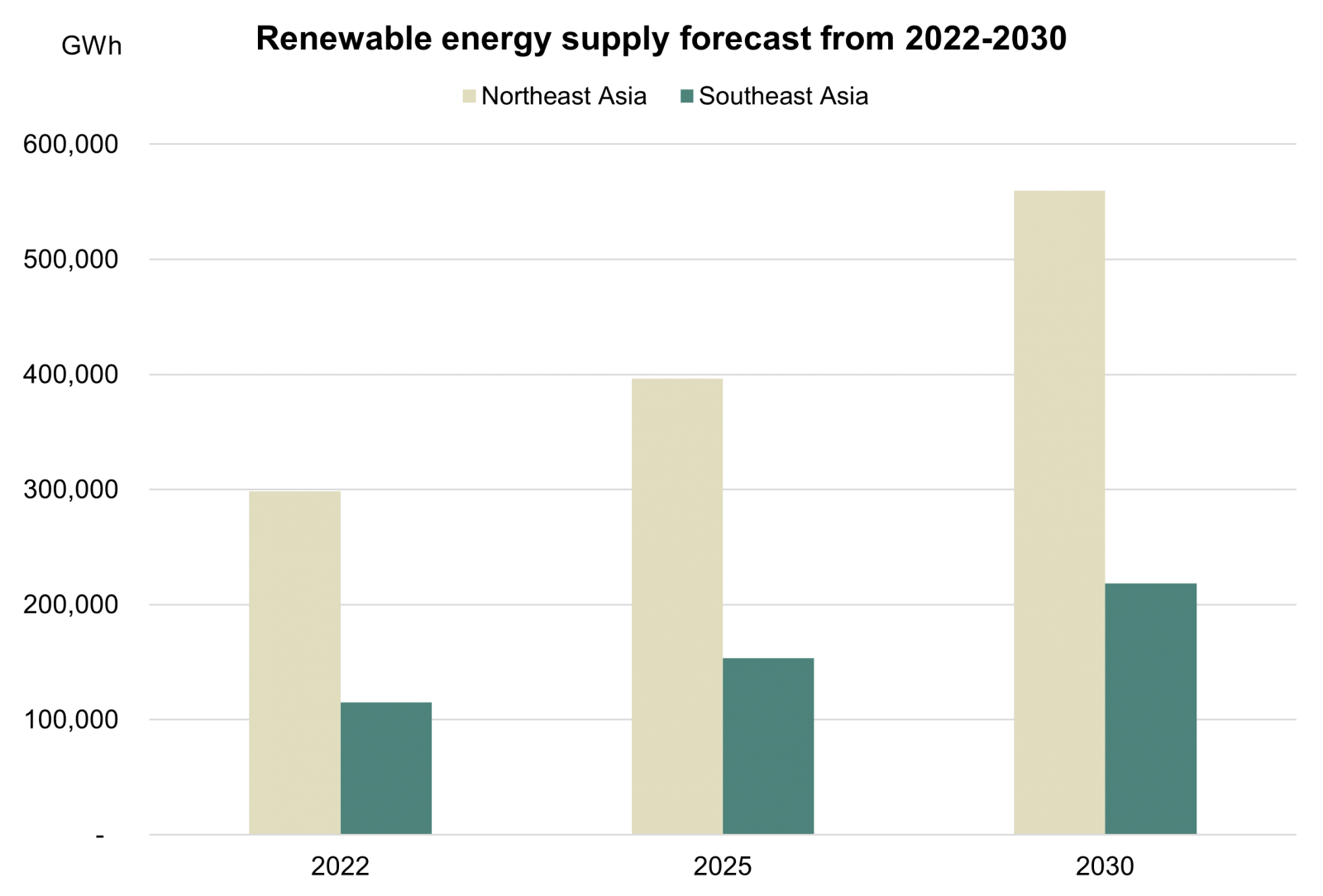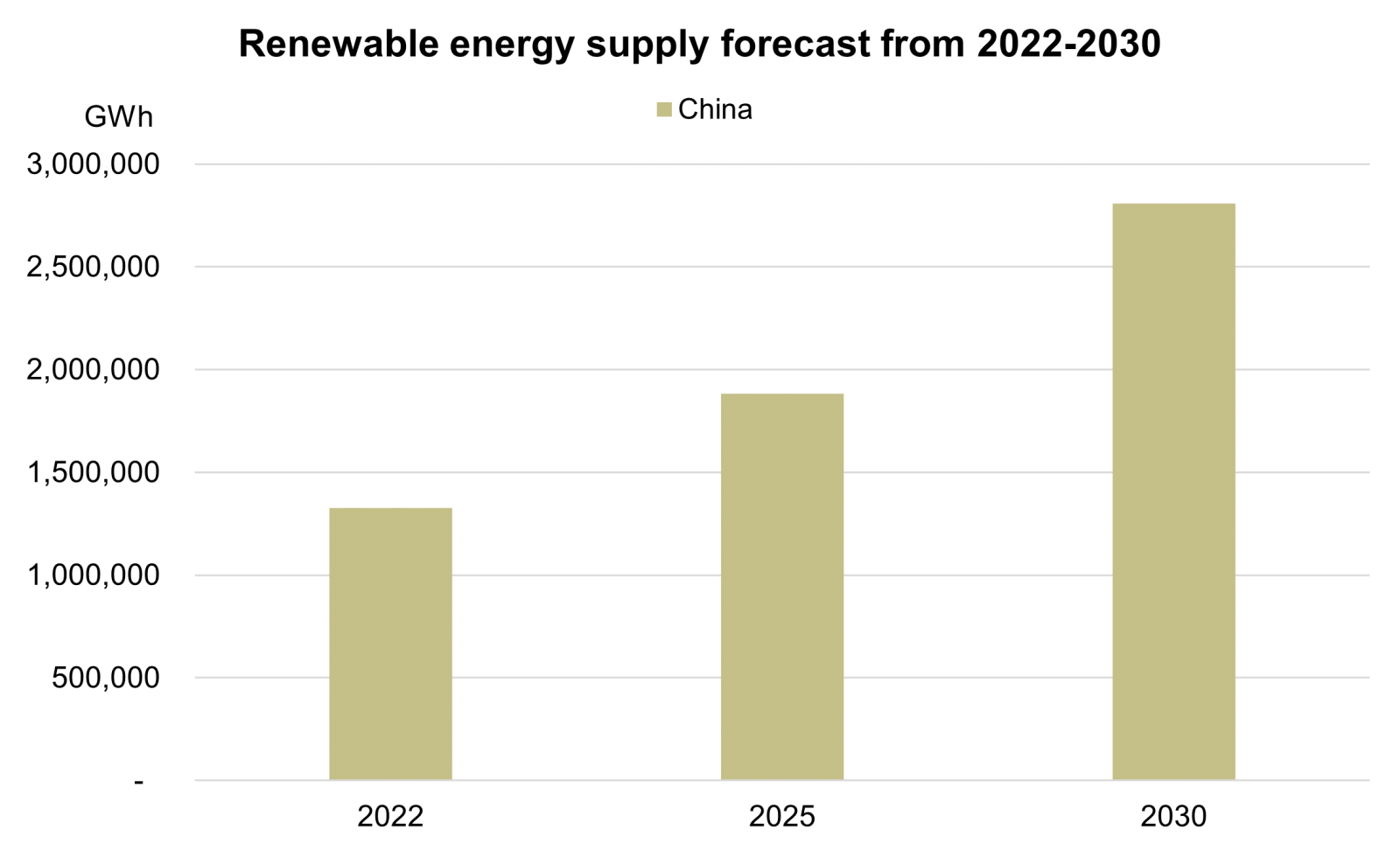 Northeast Asia
In 2021, countries in Northeast Asia updated their renewable energy policies (see appendix), of which provisions related to renewable energy clearly demonstrated governments' initiative in promotion. Based on the total renewable electricity generation of 265.8 TWh in 2021, it is expected to reach nearly 400 TWh of power generation by 2025, an increase of 50.48%; and 560 TWh by 2030, an increase of 110.68%, with the proportion of renewable electricity being about 30% (RE30).
Southeast Asia
As an emerging market of renewable energy, Southeast Asia has attracted a lot of renewable energy capital despite high uncertainty, and many governments have also made big moves recently. Thailand, for example, revised the " Power Development Plan (PDP) 2018-2037" last year, while Indonesia has pledged to achieve RE25 by 2030. However, considering the Covid-19 pandemic and the time it takes to deploy renewable energy, renewable energy will not grow significantly in the next three years. However, Southeast Asia is expected to show great potential in 2030, as renewable electricity generation will grow from 101.8 TWh in 2021 to 286 TWh, with the share of green energy expected to reach RE19.
China
China has proposed in the "14th Five-Year Plan" to raise the proportion of non-fossil energy consumption to 20% by 2025 and actively develop wind and solar energy, aiming to reach 1,800 TWh by 2025, an increase of about 60% compared to 1,100 TWh in 2021. Since the renewable electricity supply in China is policy driven, it will be more difficult to forecast the development from 2026 to 2030.
However, the expected power generation cannot be 100% available for household use. For example, electricity generated from renewable sources in Northeast Asia last year was 265.8 TWh, but the energy labeled with green power that households can access to is only 25.9 TWh, which is less than 10% of the total. The reason is that if the government adopts the Feed in Trade (FiT) system to stimulate the development of renewable energy, the power generators will sign a Power Purchase Agreement (PPA) with the government to sell renewable electricity, and the sold electricity will be connected to the power grid, and the additional environmental values of green electricity will disappear when it combined with electricity generated by traditional fossil fuel.
In addition, the energy utilization rate should be considered in the market forecast. Taking China as an example, the curtailment rate of wind and solar is very high, sitting at 8.4% and 7.9% respectively in Northwest China last year. Although the loss of potentially useful energy in markets of other countries is not as high as that in China, the intermittent nature of renewable energy is also a pain in the neck for all countries. Therefore, the total supply forecast after deducting the purchase and curtailed energy based on the FiT policy will be the real supply in the renewable energy market.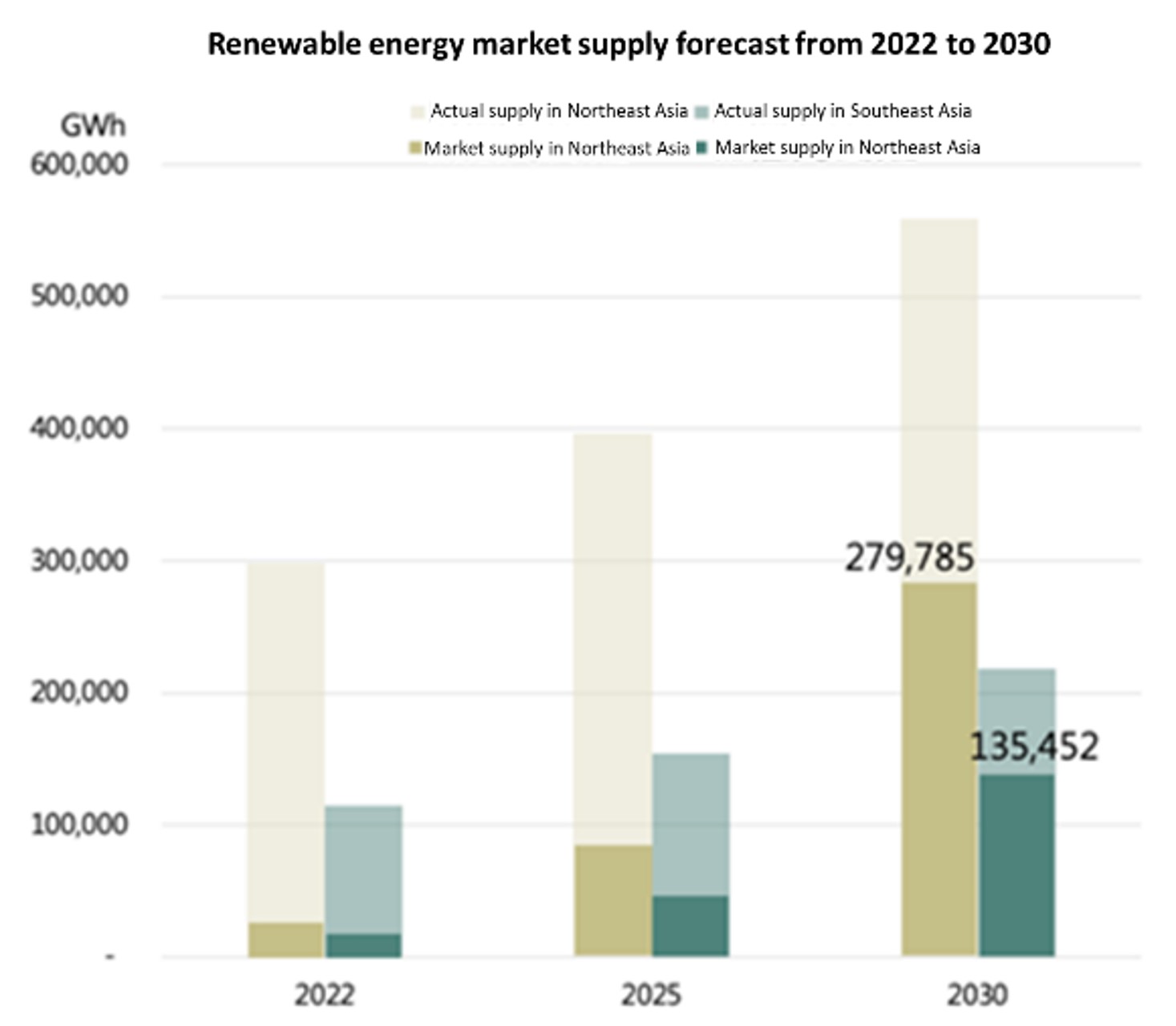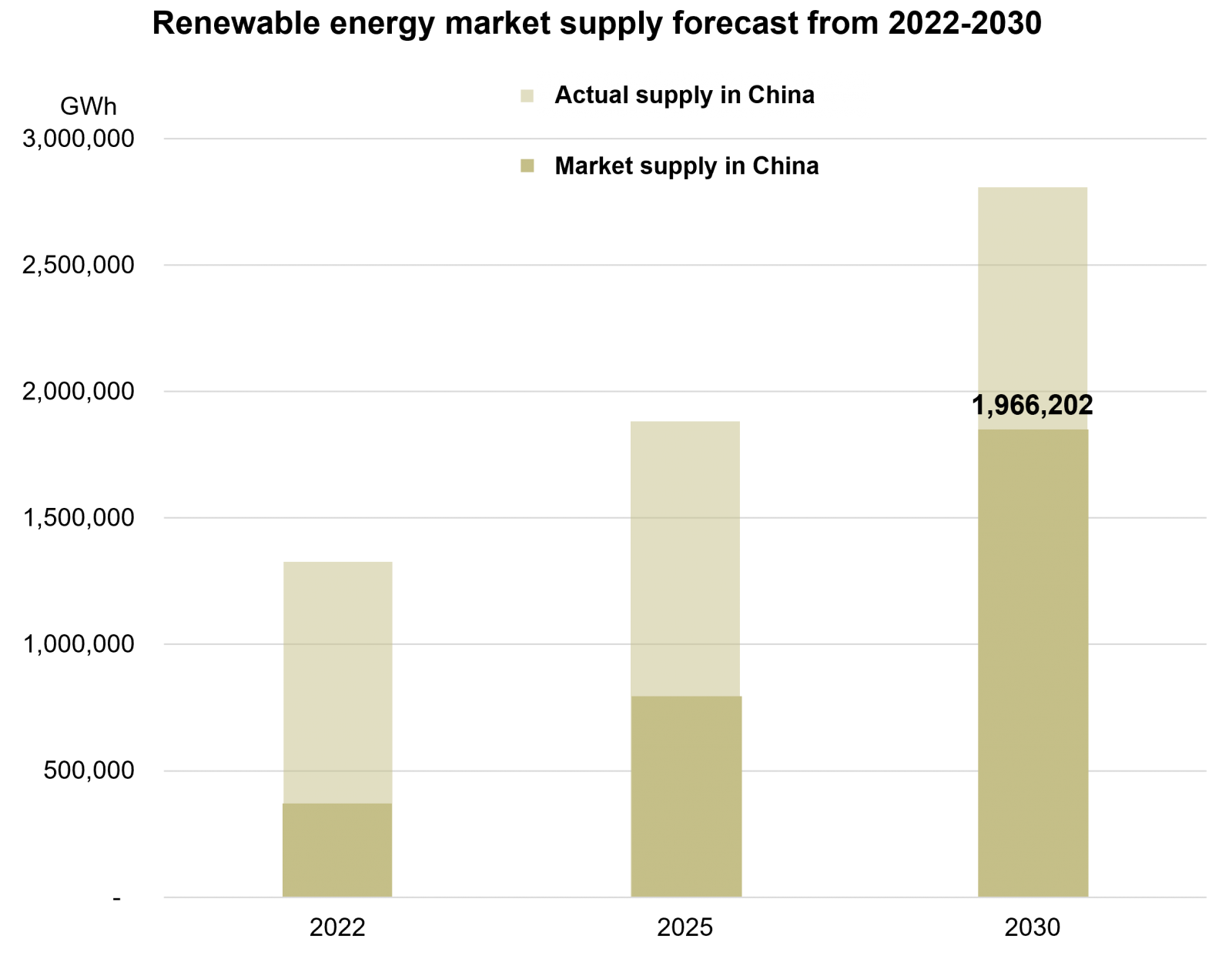 The second part of the article will offer insights of market demand of green electricty and the overall supply and demand relationship in East Asia in the future. Learn more: Forecast for renewable energy market trends in East Asia: Supply and demand outlook
Appendix:

1 East Asia refers to Northeast Asia (Japan, Korea, Taiwan), Southeast Asia (Thailand, Indonesia, Philippines, Singapore, Vietnam, Malaysia) and China.