Following the previous article exploring the overall renewable energy supply and the available supply in the market in East Asia , this article will discuss the renewable energy market demand and supply outlook.
Renewable energy market demand and forecast
Companies are under three sources of pressure to use green electricity:
Legislative requirements of government agencies and the Renewable Portfolio Standard (RPS) policies in various countries that require the obligated entities to reach a certain percentage of renewable energy use within a certain period of time, such as South Korea's RPS policy and Taiwan's "major electricity consumer clause."
Supply chain management. The most famous example is Apple's announcement last year that its supply chain needed to achieve the goal of 100% renewable electricity by 2030.
Implicit requirements of customers and the corporate image. While some enterprises are not subject to mandatory requirements for the use of renewable electricity, they use it voluntarily due to concerns of their customers and the improvement of the corporate image.
Demand for renewable electricity in Northeast Asia in 2021 accounted for about 5% of the overall industrial energy consumption, compared to 6% in Southeast Asia. According to the demand forecast based on the three sources of pressure (see the figure below), the growth rate of green energy demand in Northeast Asia and Southeast Asia is about the same, yet demand in Northeast Asia will remain a little higher than that in Southeast Asia in the near future. In 2030, the total demand for renewable electricty is expected to reach 16-17% of industrial power consumption.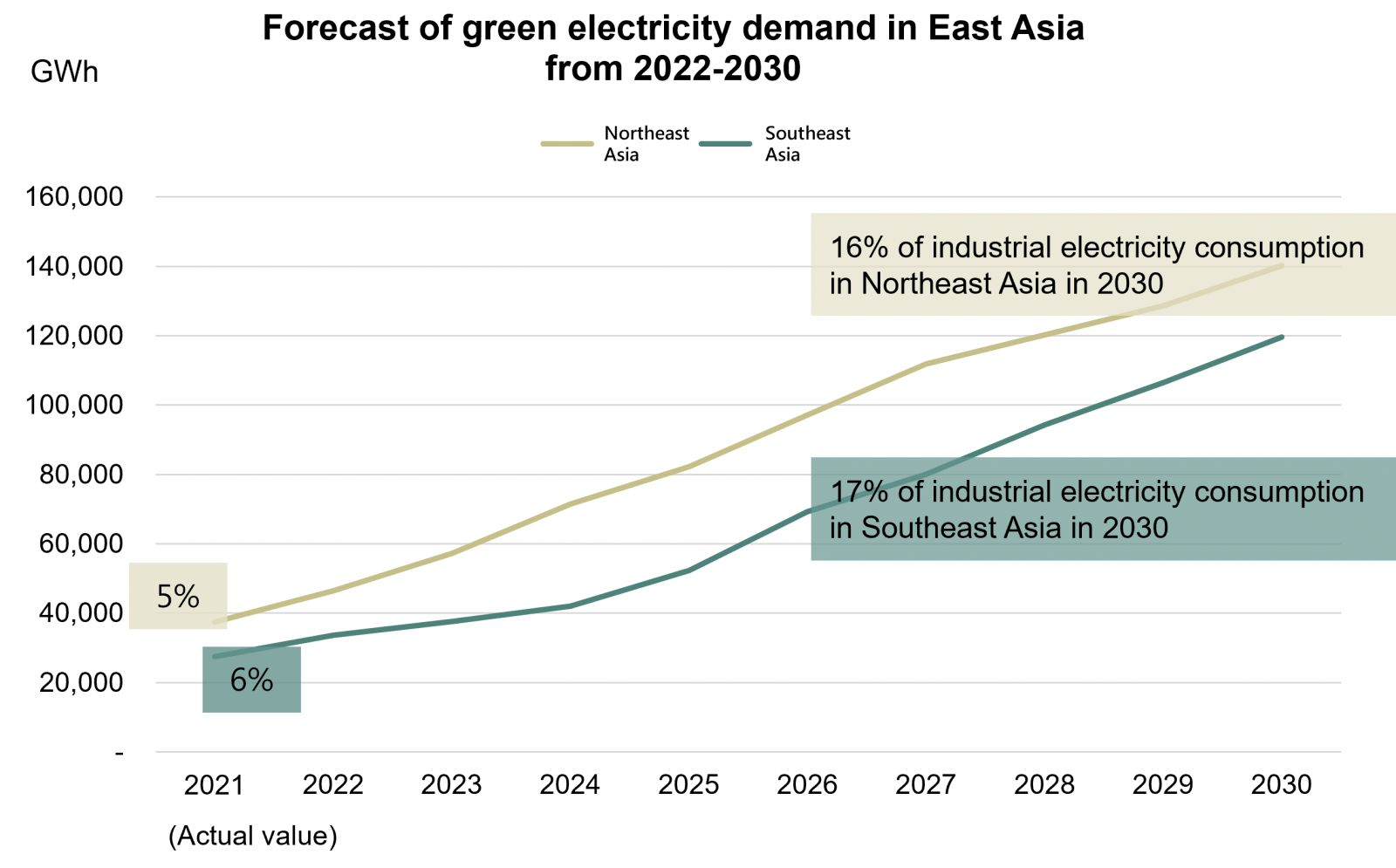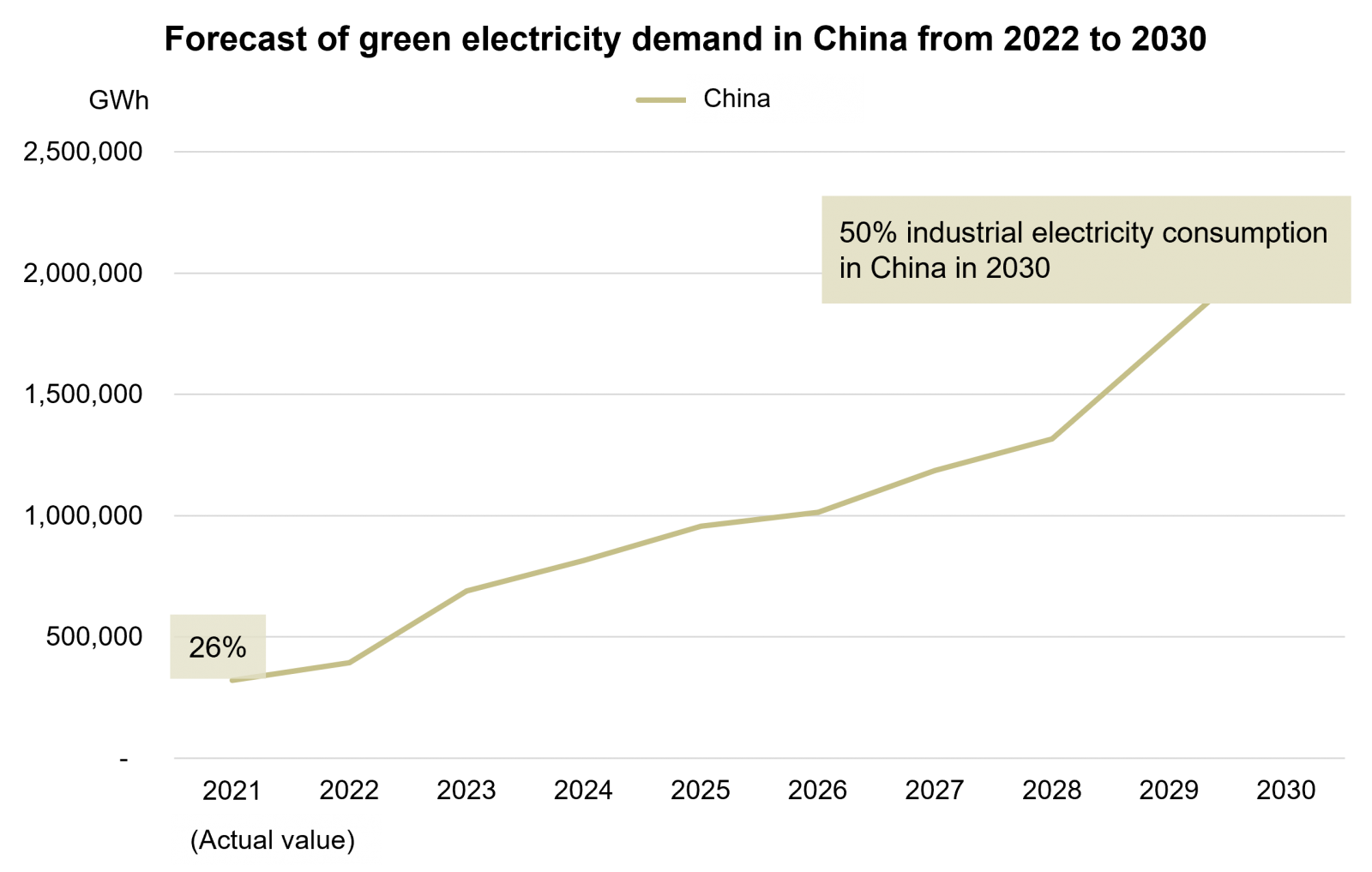 As for China, the supply is mainly driven by policies. Although China has proposed a target of 25% non-fossil energy consumption by 2030, the exact implementation plan after 2025 is still unknown, which indicates more variables of the forecast. Renewable electricity demand in China last year was much higher than that in Northeast Asia and Southeast Asia, accounting for about 26% of China's overall industrial energy consumption, and will reach about 40% by 2025.
Renewable energy market supply and demand outlook
What is the trend of the renewable energy market? The following part will explore the supply in the renewable energy market and aforementioned renewable electricity demand.
In Northeast Asia, as procurement-related policies gradually wind down and the supply flowing into the free market increases, it is expected that supply will balance demand by 2026, increasing the bargaining power of renewable electricity. However, due to the late start of Southeast Asia, the supply cannot be as fast as that of Northeast Asia in the short term. Because of this, RPS policy has been mainly adopted by the market, allowing higher proportion of supply to flow into the free market. After a transition period of 3-5 years, supply and demand may achieve equilibrium by 2027, starting a new milestone for the renewable energy market. In China, where supply and demand are mainly driven by government regulations, will see short supply remain in the short term. The situation after 2026 is subject to the market.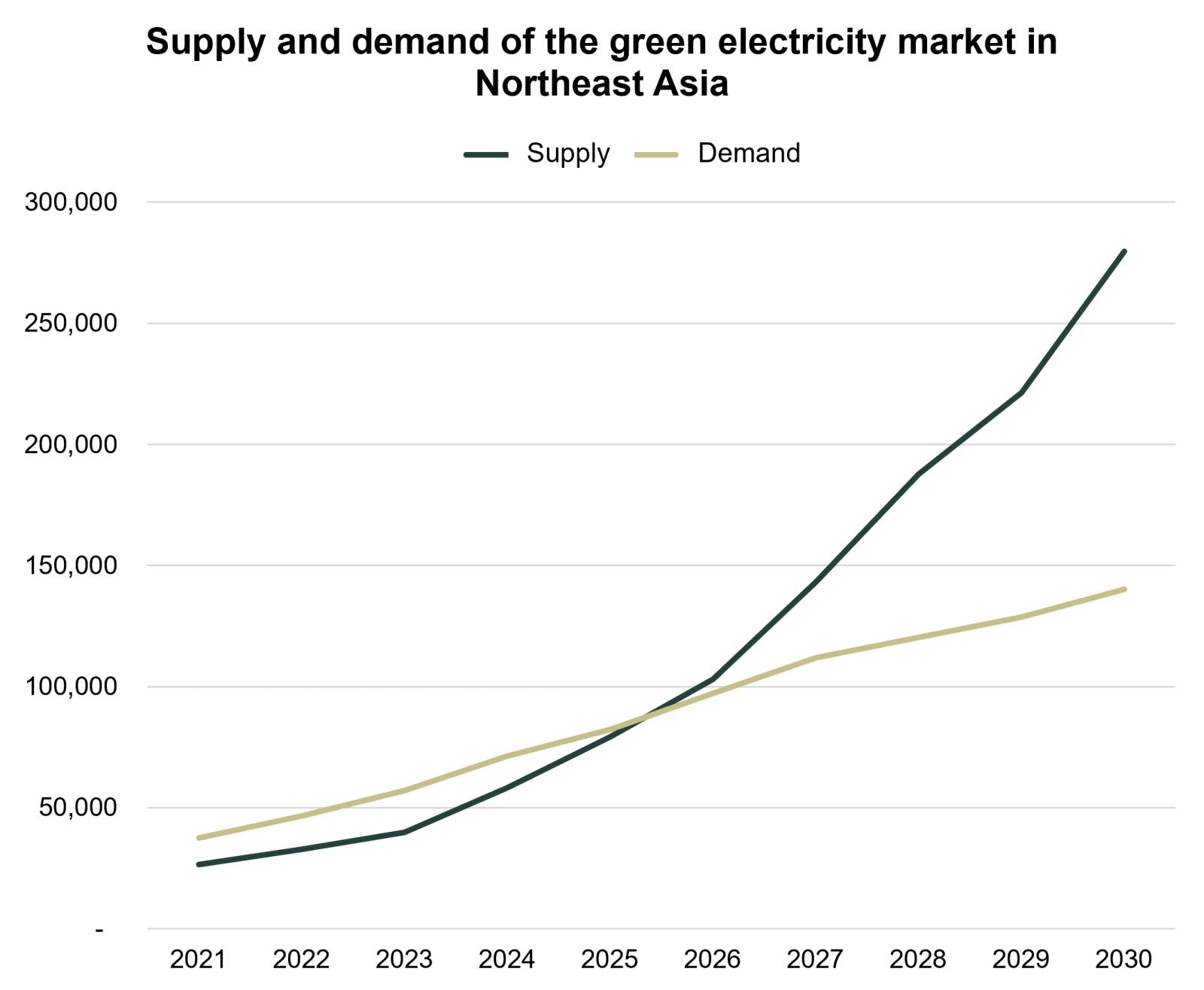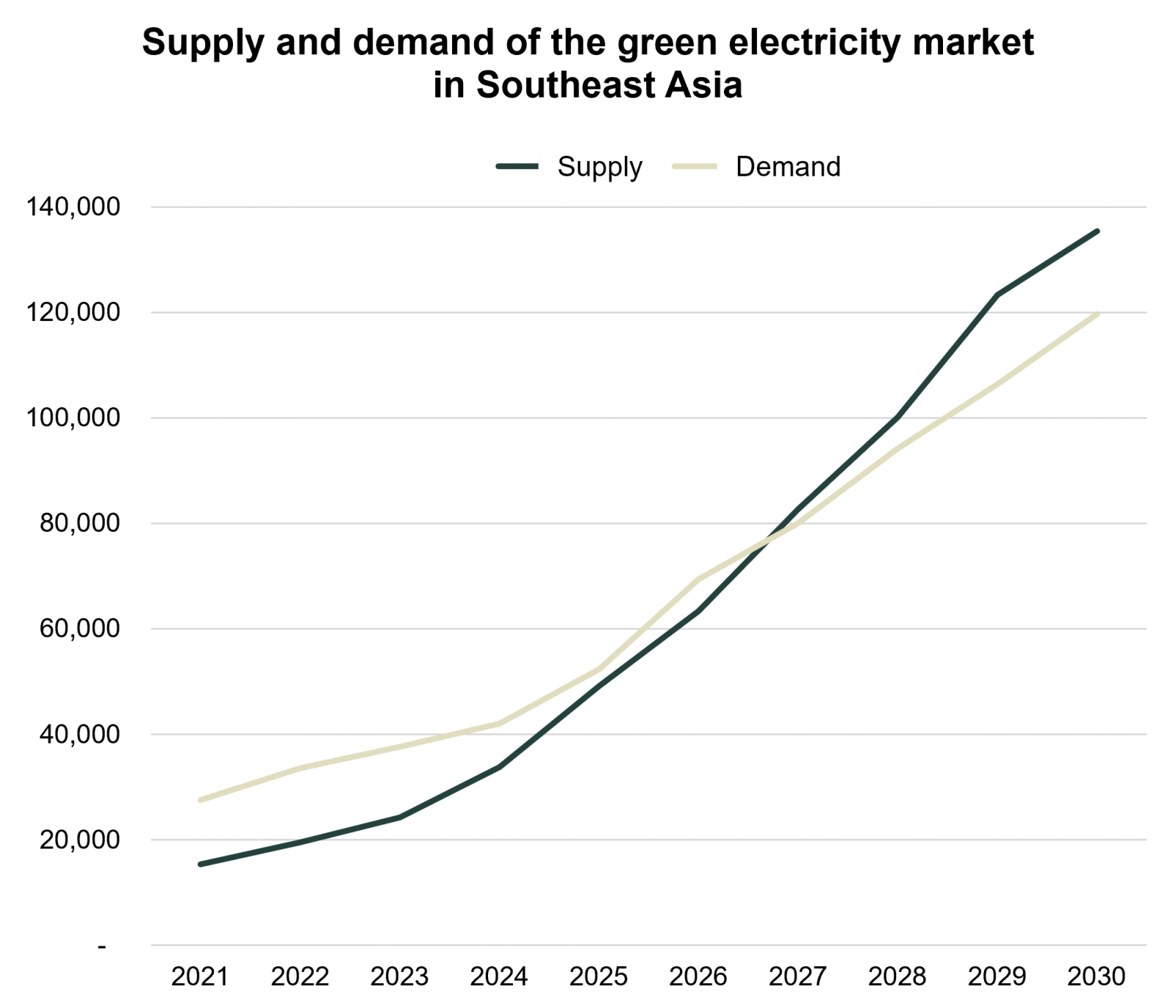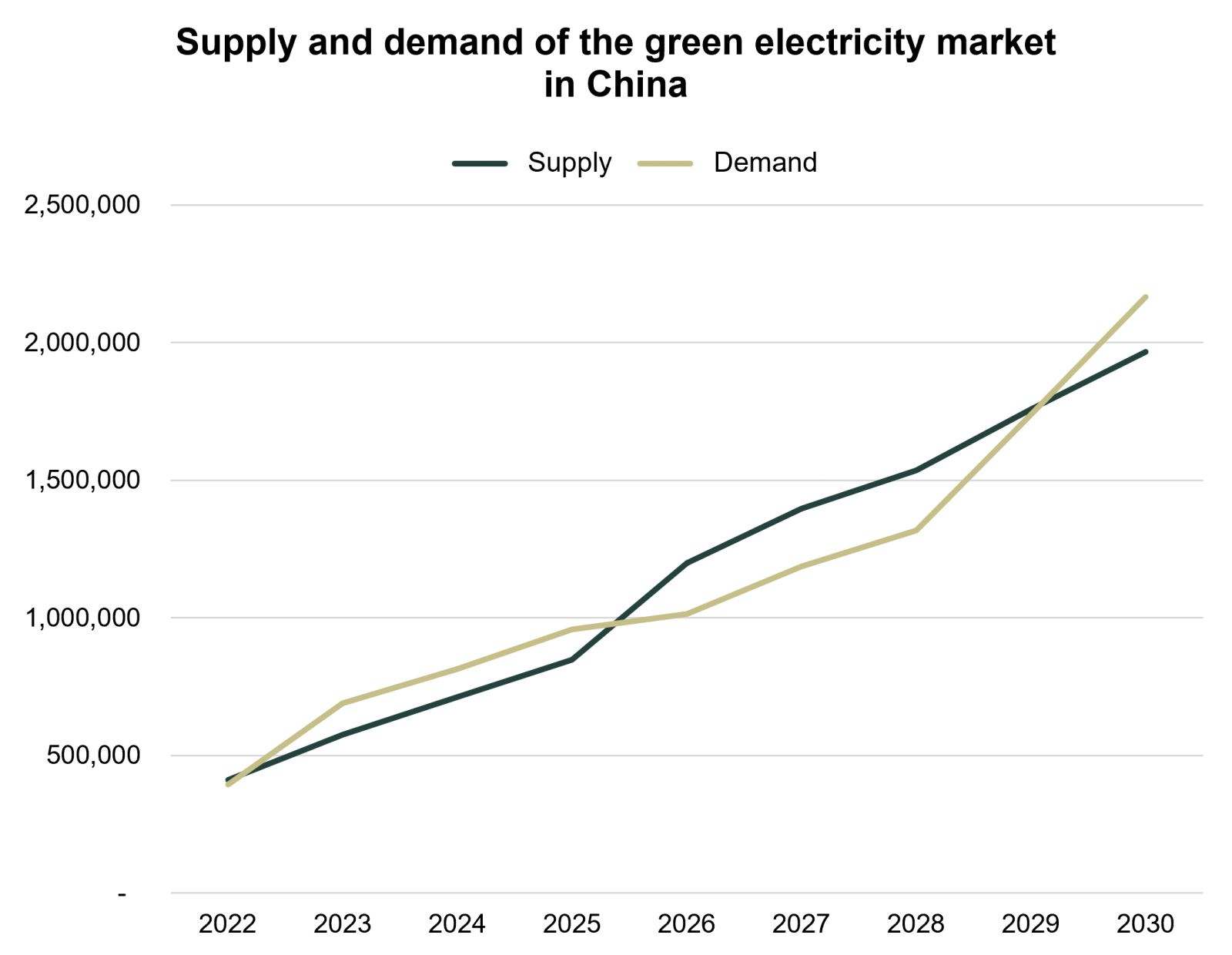 Renewable energy market progress
Past experiences of Europe and the United States, the pioneers of renewable energy markets, offer a picture of the development of the renewable energy market. At first, the market starts from installing renewable energy systems for self-consumption to meet basic energy demand. Then, renewable energy generators start to appear in the market. Yet, enterprises have to sign Power Purchase Agreements (PPA) with renewable energy power generators since the supply is still limited at this stage. As supply gradually grows and finally gets closer to the demand level or even exceeds it, the market starts renewable energy trading, with each renewable energy certificate representing 1,000 kWh of renewable electricity. If a company increases its production capacity which leads to higher power consumption, it only needs to purchase more certificates for the year instead of signing another PPA.

Compared such market progress with the status of renewable energy market in East Asia, the current renewable energy trading method in East Asia is mainly self-generation, self-consumption and signing PPAs, and prices of renewable electricity saw upward trend. However, if short supply gradually eases and balances with demand during 2026 and 2027, the REC market is likely to emerge after 2026 so that enterprises are given more options to achieve their renewables goal.
Conclusion
Will renewable electricity be sufficient for purchase in 2030? From an optimistic point of view, the answer is yes. Chances are it could be more convenient than today. More stringent management of the supply chain or the emergence of next pandemic may slow the pace for supply and demand to become equilibrium, and all of which are subject to observation of market changes to make countermeasures. In addition, although the renewable energy market is led by sellers for now, enterprises can install rooftop solar panels or sign a PPA that accounts for a small proportion of the total power consumption to cultivate an intuition of the renewable energy market, and set the target of reaching RE30-50 first.